Torsten Hallman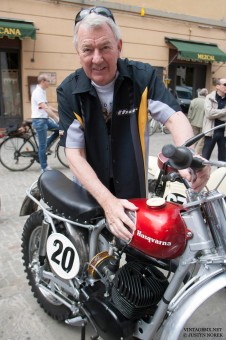 Torsten Hallman is not only a four-time World Champion motocross racer from the 1960s, but also the mastermind behind motocross apparel company Thor.
Hallman was born in Sweden in 1940 to a family that was already in to motocross. In fact, they had a practice track on their family farm, and a lot of the top Swedish racers would practice there when they were in the area. Since Hallman began riding at an early age, he had great skills by the time of his first race. He won that race, and then knew what he wanted his entire life to be about.

Torsten won a very important junior race on a Husqvarna in 1957, and was asked to join the Husky factory team. He of course accepted, and that was the beginning of a legacy. He was competing and winning world championships within only a few years. He went to America for the first time in 1966, with Edison Dye of Husqvarna. Their goal was to increase awareness of not only the Husqvarna brand, but motocross in general. Since Hallman was such a great rider, their plan was to enter him in races so that he could win on the Husky. He succeeded.
By the end of the 1960s, Hallman had suffered a back injury that caused his race results to suffer. Husqvarna decided to let him go, allowing the struggling Yamaha squad to pick him up, not only for his riding ability, but his knowledge about bikes. With his input, Yamaha came up with the YZ, which was the first production mx bike to incorporate mono-shock rear suspension.
Hallman eventually became a Husky dealer in Sweden, and sold motocross pants and gloves at races out of the back of his car. He did so well in sales that it led to the creation of motocross apparel company Thor (Torsten Hallman Original Racewear). A business venture that was originally a guy simply selling clothes out of the trunk of his car is now one of the most recognized and most popular motocross brands in the world.
The photos of Torsten Hallman on this page were taken by Justyn Norek of Torino, Italy. Thanks for sharing Justyn!
Torsten Hallman Photo Gallery