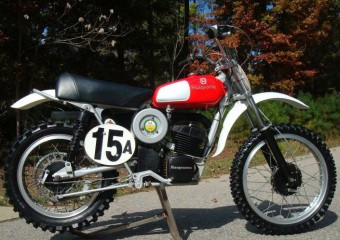 Husqvarna Motorcycles has been manufacturing motocross, enduro and supermoto motorcycles since the mid-1900s. The company, however, began in Huskvarna, Sweden as a division of the Husqvarna armament firm. When it started out in the 1800s, Husqvarna was a bicycle manufacturer. They began producing motorcycles in 1903, and opened their own engine factory in 1920. Although they produced quality motorcycles for the street, Husqvarna's most popular venture would be their motocross and enduro bikes.
Husqvarna produces a diverse range of motocross, enduro and supermoto bikes using their own two-stroke or four-stroke engines. The engine sizes range from 125cc to 576cc. "Husky" is well known for producing world championship winning motocross and enduro bikes, and in the 1960s, their lightweight two-stroke motocross bikes became much more popular than the market-leading British four-strokes.
Husky motocross bikes dominated the World Championships in the 1960s and 1970s, winning twelve championships in the 125cc, 250cc and 500cc classes. They have also won 24 Enduro World Championships since 1990, and won their first World Supermoto Championship in 2005.
Husqvarna's WR, (wide ratio), 250 model was first produced in 1969. The 1972 WR 250 may be the most famous model Husqvarna manufactured, as it was the bike that Malcolm Smith made so popular. Husqvarna also produced a WR 125, 250, 360, 390, 430 and 450.
Husqvarna Motorcycles was sold to Italian motorcycle company Cagiva in 1987. This made Husky a division of MV Agusta Motor SpA. Ever since the sale to Cagiva, Husqvarna motorcycles have been produced in Varese, Italy. Cagiva sold Husqvarna to BMW in 2007, but they are continuing to run Husky as a separate entity, with all of the business continuing to be run in Varese.