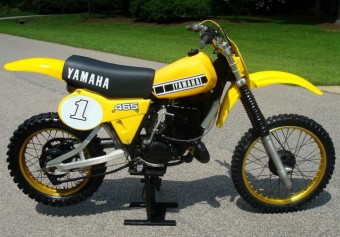 Yamaha began producing motorcycles in 1955. They began with simple, cost-effective bikes, but since then, Yamaha has grown into a huge motorcycle powerhouse, boasting some of the best motocross bikes on the market. Yamaha ranks second behind Honda as leader in Japanese motorcycle manufacturers. In 1960, Yamaha began selling their motorcycles in the United States. The DT-1 Enduro was introduced in 1968, and was possibly the worlds first dual-purpose motorcycle. The DT-1 Enduro was a 250cc two stroke and it made a huge impact on the North American off road scene.
Yamaha broke new ground again in 1974 with the introduction of the commonly known YZ250. It was another lightweight two-stroke machine, but the 1975 Yamaha YZ250 set a new standard, featuring a single rear mono shock. Danny LaPorte had a short stint on the Yamaha factory team, winning them the 1982 FIM 250cc Motocross World Championship on their YZ250.
In 1974 Yamaha also released the YZ125, and just two years later, decided to enlist future Hall of Famer Bob "Hurricane" Hannah as their go-to 125cc-class rider. Hannah would win five of eight outdoor nationals that season, giving him, and Yamaha the championship. The next year, Hannah took on the YZ250 for the AMA Supercross season, and won that championship, as well. He would go on to give Yamaha seven championships before the 70's were over. In 1981, the Yamaha YZ125 became the first liquid cooled production motocross bike.
In 1998 Yamaha made the first mass produced 4 stroke motocrosser, the YZ400F, another benchmark in the motocross industry. The YZ400F is the dirt bike that paved the way for the four-stroke revolution.