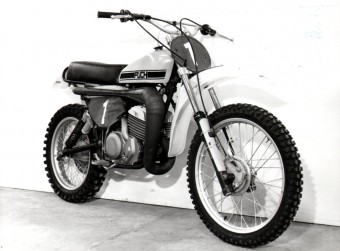 Puch motorcycles began as a manufacturing company started by the entrepreneur Johann Puch in 1889 in Graz, Austria. Puch is probably best known for their mopeds, bicycles, street bikes and automobiles. In 1970, they entered the off-road motorcycle world. It was at this time period that Ted Lapadakis of California began importing the new 125cc and 175cc motocross and enduro machines.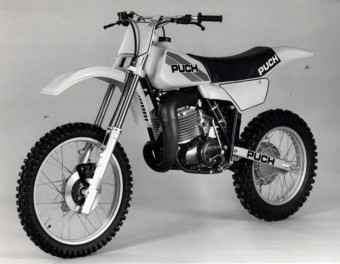 The 175cc bike was basically the same as the 125 with a larger displacement and different gearing. Here in the states the Puch enduro models were more popular than the motocross models. The MX models were not received as well as the over all looks weren't exactly "the race style" of that time, due in part to their over-sized seats.
Puch's 175 mx model never caught fire here in the states. It simply couldn't match the power or the price tags of the popular 250s from other manufacturers. The 175 featured a 5 speed gear box, produced about 27 ponies, 21 inch front wheel, 18 inch rear wheel, and a 54 inch wheel base.
Along came 1974 and Belgium rider Harry Everts, Stefan Everts father, was assigned to race Puch's new 250 machine in the World Championship. Everts would go on to finish 3rd overall in 1974. Puch made a lot of adjustments to the bike and Everts seized the championship title for Puch in 1975 aboard his twin Bing carbed MC250 that featured Marzocchi forks and hubs, and a magnesium engine.
To this day the 1976 Puch MC250 and MC400 remain two of the most coveted and rare vintage motocross bikes one could get their hands on. In 1988 Puch sold the motorcycle division to Italian scooter builders, Piaggio.
Puch Motorcycle Gallery