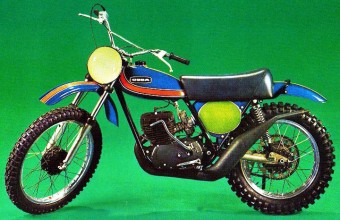 Ossa, short for Orpheo Sincronic Sociedad Anónima, was a Spanish motorcycle manufacturer best known for lightweight two-stroke motorcycles. After the Spanish Civil War destroyed much of the Spanish economy in the late 1930s, many Spaniards were in need of cheap transportation. Ossa's founder, Manuel Giro, and a few other engineers began designing and producing a motorcycle that would fit these high demands.
The first of Ossa motorcycles was released in 1949. It had a 125cc engine and three-speed gearbox, and would ride at 47mph. About 14,000 of these red bikes were sold in just a few years. Other models were soon released, but the highest production peak wouldn't come until the 1960s, after Manuel Giro's son Eduardo took over. He knew that Spain alone couldn't keep the company afloat, so he decided to take the company global. The best way to do that? Race international races.
At the 24-Hours of Barcelona race in 1965, two new 175cc prototypes were put up against other Spanish rivals of Bultaco and Montesa, and were looked at as underdogs. Quite easily, Ossa won the first and second place prize, thus putting their name on the international motocross map. While the 175cc's obviously became popular, it was the Ossa Stiletto 250 that had the most fans.
Other Ossa models include the Desert Phantom, Gripper, Mick Andrews Replica, Mountaineer, Phantom, Pioneer, Plonker, Super Pioneer, and the Six Day Replica. These now vintage Ossa dirt bikes would be used in endurance races, observed trials, and motocross events for years to come.
By the early 1980s, Japanese companies had begun taking over the vast majority of the dirt bike market. On top of this, a number of labor movements were hitting Spain, as well as a rise in costs. Since Ossa just couldn't withstand the pressure, they ceased operations.