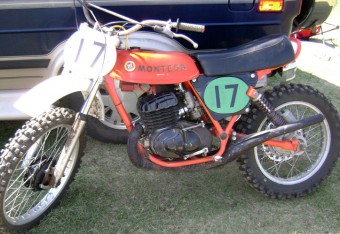 Montesa motorcycles was Formed in 1944 by Pedro Permanyer and Francisco Xavier "Paco" Bultó. Their first Montesa prototype was based upon the French Motobécane models of that time. Permanyer began to produce his own gas engines, which allowed for a new area in motorcycles to be explored and expanded into. In May 1958, chief designer Bultó left, taking with him several of Montesa's vital personnel. Permanyer had not only lost the brilliant designer Bultó, but also his 30% share of the company.
Following its introduction in 1965, the 250 engine would be the cornerstone of the company's future success. Mounted on the new 250 Scorpion scrambler, Pi won the Spanish championship again in 1966. After adding this title to go along with the road race and six motocross titles, he retired from competition to devote his full energy to bike development.
In the decade following, Montesa had unprecedented growth around the World and one has to remember that unlike Bulto's bike, the Bultaco, Montesa only sent a small percentage of its production to the States, concentrating mostly on the European market. Motocross models were offered in sizes 125, 175, 250, 360 and 414.