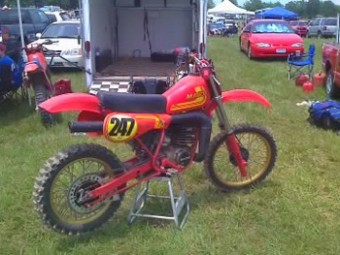 Maico Motorcycles, or Maicowerk A.G., began in Germany in 1926, assembling 98 and 123 cc two stroke motors, but is best known for their motocross and enduro dirtbikes. Maico made a few light road bikes during WWII, but their business didn't really start to amplify until after the war. The M 125 began being mass-produced in 1948, and was a 123cc two-stroke with a single cylinder. In 1949, a beefed-up version of the M 125, the M 150, was released. Both of these machines were given a new rear suspension a couple of years later, and their names were changed to the M 126 and M 151.
Maico released their first motorcycle with a four-speed gearbox in 1953, the Maico Fanal. The single-cylinder, 197cc M 200 was also released in 1953. Many new models were released in the 1950s, including the M 175S, M 175T, M 200S, M 200T, Passat 175, Typhoon, and Blizzard. In the 1960s, Maico was a supplier of all-terrain bikes to the German army. They were making them a 247cc bike, the M 250B. After this venture is when they began mass producing motocross and enduro bikes for the general public.
The MC (motocross) and GS (enduro) bikes were very successful in American and European competitions in the 1970s and early 1980s. The 1974 1/2 400cc and 440cc GP, and 1981 490cc enduro models, as well as all 501cc motocross models are some of the most desired vintage MX and dual-shock motorcycles to this day. To many, the 1981 Maico Mega 490 was considered the greatest open-class motocross bike of all time.
Maico was an innovator when it came to suspension. In the mid-70s, they began making the suspension travel much longer, making it easier to ride off-road. This in turn helped their racers gain on the competition. Maico also began mounting the rear shocks with them leaning forward, and mounted the front wheel axle in front of the lower fork leg, increasing the travel range even more.
Maicowerk AG filed for bankruptcy in 1983, but continued to produce MX and enduro bikes until 1986, re-naming their motocross models "M-Stars" in the United States. Other manufacturers have purchased the Maico name and are still applying it to their own limited edition open-class bikes today.