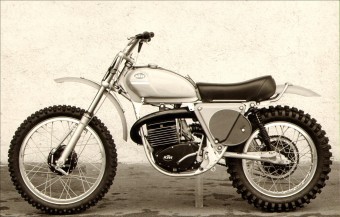 The Austrian company KTM started it's humble beginnings not as an off-road powerhouse but as a metalworking shop in 1934 by Hans Trunkenpolz. The production of KTM motorcycles began in 1953 with the R100. The company consisted of only twenty employees and the bikes were built from mostly-in-house parts, so only three were produced each day. The KTM brand gained their first championship (and therefore popularity) pretty quickly with the Austrian 125 National Championship in 1954. KTM was on top of the podium again with Egon Dornauer at the International Six Days Enduro in 1956.
KTM motorcycles were mainly popular in Europe until the late 1960s when American John Penton began importing the bikes, under the Penton name. 1973 was a pivotal year for KTM as this was the year they began production of their 250cc enduro and mx bikes. The GS125 was the first KTM to come to America and helped to transform motocross as the country knew it. Their bikes did so well on US soil that KTM opened KTM America Inc. in Ohio in 1978.
KTM has always been known for innovation with some of the best parts available sold stock on their bikes. They produced their first liquid-cooled two-stroke 125cc dirt bike in 1981. KTM followed up with a water cooled four-stroke engine developed in 1982. KTM was also the first to offer front and rear disc brakes for an off-road bike (in 1986).
The innovation kept going into the late 90s when, in 1998, they came out with a linkless rear suspension that greatly reduced the weight of the bike. However, due to what many consider to be harsh suspension, KTM has since gone back to a linkage style rear suspension. The hydraulic clutch mechanism was also a KTM specialty, a feature any rider can appreciate in reducing arm pump.
In motocross and supercross races today, it's practically unheard of for someone to be on a two-stroke. AMA rule and class changes, as well as state and federal laws have caused two-strokes to quickly lose a market. KTM is one of the only major manufacturers still producing two-stroke dirt bikes and they are working on making them more environmentally friendly. KTM 2 stroke bikes are burning cleaner and have been passing strict standards that have been put in place.