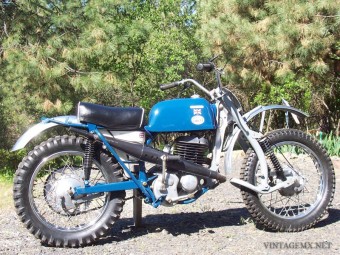 Greeves Motorcycles Ltd. produced various types of motorcycles from the early 1950s through the 1970s. The company was started by the same man behind Invacar Ltd., Bert Greeves. Invacar was a manufacturer of gas-powered, three-wheeled cars for those that were disabled. Being a motorcycle fan and trials rider, Mr. Greeves wanted to try his hand in the motorcycle market. Thinking he could reduce the weight of a bike while keeping its quality, he designed two dirt bikes that were released in 1954. One bike was for trials riding, and the other for motocross. They both used 200cc Villiers two-stroke engines, and were easily identifiable thanks to the cast aluminum down beam and leading link front fork.
Greeves partnered up and sponsored motocross racer Brian Stonebridge, gaining the exposure needed to effectively market the company. Sales started to rise, and Greeves stepped up the efforts even more. Dave Bickers gained their sponsorship, and in 1960 and 1961, he won the European championship on Greeves' new 246cc bike. Around this same time, the Greeves Hawkstone motocrosser began changing the reputation of lightweight bikes. The Hawkstone became the first lightweight bike to be fully relied on not only to finish a race, but to place really well, too.
With all of the changes that had been happening to the Villiers motors, Greeves realized that a new engine was needed in order to stay competitive. This was implemented and released in the 1964 Challenger. This 250cc motor had the Greeves head and barrel, an Albion gearbox, and an Alpha Company lower end. A 360cc was released by 1967, and both bikes were very popular with desert and motocross racers alike.
By 1969, the Challenger was replaced with the 250cc and 380cc Griffon. The leading link fork had been replaced by telescopic forks for more travel. The cast aluminum down beam had also been changed to a Reynolds 531 chrome moly with a conventional down tube. Not long after the Griffon was released, Greeves began working with Dr. Gordon Blair of Queen's University in Belfast. This collaboration was done in order to increase the number of horsepower that the Griffon 380 produced. Dr. Blair was able to increase the horsepower by an amazing sixteen percent by re-engineering the ports and exhaust system.
The newly designed Griffon was called the QUB, and production began in 1971. The second of the QUBs, the MKII, was released in 1976. Japanese bike companies had began to steal away customers, so smaller companies were starting to suffer. A factory fire brought Greeves to an end in 1977.
To read even more history and facts on Greeves motorcycles, visit Frank Conley's Greeves history page.
Greeves MX Gallery