Factory Honda Mugen ME 390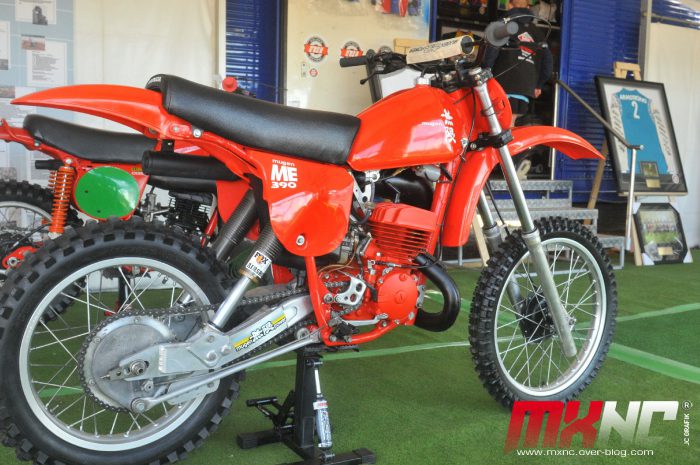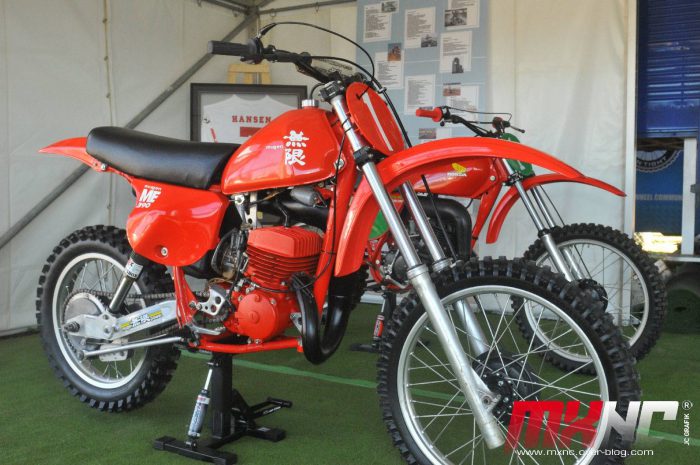 Whether or not you are a Honda fan, this amazing, one of a kind Factory Honda Mugen ME 390, and the story is a must read. A very big thank you to Rosco Holden of Holden On Tight charity and museum!
The story and specs, for the only 1979 Honda Mugen 390 in the World, and I'm lucky enough to be the custodian of!

These days, motocross teams have all manner of the enterprise providing sponsorship – such as companies that sell phones, alcohol, oil, motorcycle aftermarket bits and of course very little in the way of cigarettes or fast food sponsorship. Well, there was a time when good ole Kentucky Fried Chicken (before they were plain ole KFC), sponsored a motocross team in Australia… and they bought this bike!

In the late 1970s, KFC was far more popular than it is now and was probably the biggest of fast food outlets operating in Australia at the time. Not only that, but fast food was worshipped then and no-one made you feel guilty about eating a whole bucket of the stuff on your own! So, KFC had money to burn and was Honda Australia's main off-road sponsor for a few years.

Getting a full-blown RC Works Bike out of Honda Japan wasn't an option, as they just didn't hand those things out, even if you had the money. The works bikes never left their grasp, without a full-time minder, as who knows how many people might discover its secrets if one came all the way down to Australia! What they could buy though was a Mugen 360. It was Honda-powered, red, reasonably quick, light, and very trick. However, in 1979 and 1980, the open class wars were being waged by bikes that were at, or at least closer to the 500cc limit. Then there was the matter of the drawing of the single shock rear end… the Mugen wasn't going to win that battle either.
As early as January '78, anyone could buy the Mugen 360 kit (cylinder, head, piston, pipe, clutch springs and gaskets) to convert your CR250R into an open classer. That kit, by the way, was US $650 in 1978 and the adverts had Marty Smith telling the world that "The Mugen ME 360 kit is the next best thing to owning a works bike". It was also the only way of owning a big bore Honda motocross bike. Grafting the new cylinder onto the 250 cases called for some specialized machine, and then there was the issue of the reminder of the bottom end holding together. Mugen advised that you could use the existing gear set, as long as you pulled the motor down after each ride and inspected it for damage, or you could buy some stronger fears from Mugen – either way hardly an ideal solution. The following year, Mugen released the ME360R, a complete race bike, ready for action.

The Australian Honda RSC (Racing Service Centre) KFC race team purchased two complete ME360R bikes in 1979. Just as a small aside, while we're on the subject of RSC, did you know that it had been established in 1965 to provide a service for Honda owners who participated in racing? This service was replaced by HRC (Honda Racing Company, Ltd) in 1982 and it effectively became the world's first motorcycle racing company.

Tony Hatton, head of the Aussie Honda Team back then, told VMX Magazine recently that of the two Mugen's purchased "One was raced nationally by Mark Pace while the other was raced mainly in Victoria, by other Honda Team Riders". Mark was Honda's lead rider at the time, campaigning in (among other things) the most prestigious Aussie MX title. "Mr Motocross". Trouble was, most of the other main contenders were on open class bikes and the 360 Mugen gave away just a bit too much I capacity. It was however regarded as a very capable bike in every aspect.

Based on the CR250R by and large there are nonetheless several notable changes in Mugen's own Chromoly frame. Both the top and bottom shock mounts were located about an inch further forward (the top shock mount was also an inch higher) and the steering head angle was reduced one degree, to 29.4 degrees. The more forward-mounted 17.5″ long shocks didn't actually produce an overly tall seat height, thanks to the banana swingarm. There was a myriad of other changes such as hollow axles, a hollow gearshift and swingarm pivot bolt, closer spacing between the countershaft sprocket and the swingarm pivot, and vastly upgraded suspension. Both the front and rear suspension units were provided by Showa. The frame featured was Mugen factory's own 4130 Chromoly. Mugen's own frame was considered state of the art at the time, but nonetheless didn't always fill Honda Team rider Mark Pace with the utmost confidence.
Hirotoshi Honda, who started and owned Mugen, naturally had access to the 'best of the best' from both Honda and Showa, as Honda was owned by his father. Dr. Soichiro Honda and Showa were owned by his uncle. In any event, Honda Japan was keen to work collaboratively on the Mugen 360 given the fact that they didn't have an open class bike of their own to take to market. So, the ME360R was blessed with front and rear suspension that was supposedly replicated from the works Honda that Marty Tripes had been blasting around tracks in the USA. The 39mm Factory Works forks were the beginnings of what was to become the cartridge fork and were regarded as being both super plush and resistant to bottoming, also helped contribute to the weight loss program by virtue of the tubes being machined, between the sand cast triple clamps, to a smaller diameter.
At the back end, the aluminium-bodied piggyback Showa units were nitrogen-charged, had helm joints top and bottom, dual springs and were remarkably good at high or low speed and anything in between. The units were replaced in Oz however with 17.75-inch Fox Airshocks with negative springs and custom pistons and shim plates. Wheel travel front and back were 290mm (11.4″) and 280mm (11″) respectively on the stock 360 Mugen. Wheelbase was 1.448mm (57″).

The bike was stable in a straight line, could seemingly take almost any line you wanted in the corners, and was also great at sliding – it was reported as being a hero in any environment. As well as good geometry, the other main contributing factor was weight or lack thereof. In stock form, there wasn't an open class bike at the time that was lighter. As it was raced, the bike was believed to weigh in at 94kg. But even though it was 'skinny', the bike just didn't have that open class grunt, as mentioned previously. There had been some limitations in any case, with stuffing the larger cylinder onto the 250 cases, so even out of the box, the ME360R didn't exactly run away from blokes of a similar capacity, let along those markedly bigger.
As Tony Hatton told us, the change from the 360 into the 390 didn't happen until after the bike had been raced for several months and although it had performed OK overall in the hands of Mark Pace, it hadn't set the world on fire either. Tony recalled his collaboration with Hirotoshi – "he was working with some great riders in the USA at the time and we exchanged a lot of ideas. For example, the Lectron carb was set up in conjunction with Hirotoshi, and we developed many things together". Much of the development work they did on the Lectron needles was also subsequently utilized by Lectron.

The 40mm Lectron was just one of the many areas that required some work when the capacity was upped from 360cc to 390cc. There wasn't a lot of room to keep going further outward via a bigger bore, (due to the inherent 250 crankcase design), as it had already gone from 70mm to 83.5mm for the 360. So, for the 390, the bore was only increased marginally, to 83.75mm and the extra capacity came from a longer stroke (from 64.4mm to 71.4mm). This was achieved via a handmade crankshaft. Other mods included a raised and widened exhaust port, larger boost ports and increased transfer ports, specially made single ring piston, and a lot of further work was required on the crankcases and transfer passages. Topping off the work was a revised (adjustable) ignition, a modified clutch and exhaust pipe and some mods to the gearbox, with a 15/47 final drive, what had already been a very tricky engine had gone a few steps further. The results after the capacity increase were pleasing but, in the end, it was still 'only' a 390.

So, did it blitz the rest of the Mr Motocross field? According to Mark Pace, who we caught up with to test his memories on the bike, not quite. "I only actually rode the bike a handful of times, to be honest. I could go quicker on my CR250R race bike. Hatto (Tony Hatton) had the Mugen running brilliantly, as he did with all my bikes but I just couldn't race it full-on for thirty or forty minutes like I could the 250. The Mugen was exotic and had great suspension front and back but it sometimes felt like the frame was flexing".

Mark remembers one time when he had to make a call to George Pine (the Honda 'heavy' who had pushed for the race team to acquire the two 360 Mugen in the first place), with some not so good news on the bike. "I was racing the bike in a Pony Express at Dargle, swapping the lead with Alan Cunningham and while in the lead and going flat out in one of the easier sections, I hit a concrete culvert and totally destroyed the bike. I was a bit of a mess as well but I knew I had to call George".

Both Tony and Mark thought that the bike and the rider could have done with another year under their belt, together. But as was noted at the outset, bikes with twin shocks were on the way out anyway so another year would have put the Mugen even further back in the development stakes. Honda was just about to release its own big bore, the 1981 450, with a Pro-Link rear end, so the Mugen ME360R really was on the outer. Mark left the Honda team during this part of his career and travelled to England and the Mugen was retired from service.

After being sold to a private rider, Tony Hatton caught up with the bike again. A while later and bought it as a restoration project.

After a few years, he realized it probably wasn't going to happen so he let it go. It did get restored and here it is – a definite one-off exotic piece of Aussie and World Motocross History.

From 250 to 360 to 390 was asking a lot.