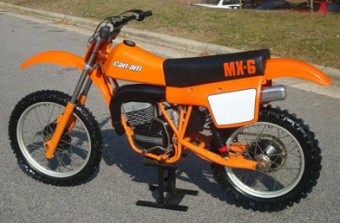 Can-Am is a Canadian motorcycle brand from the 1970s and 1980s. While Bombardier began and ended producing machines for the dreary Canadian winters, they made quite a name for themselves in the motocross and enduro world, as well. Bombardier began producing Can-Am bikes in the 1970s, using Rotax engines, which was another division of Bombardier.
The first Can-Am motorcycles were 175cc and 250cc models. They had single-cylinder, disc-valve, two-stroke engines with a five-speed gearbox. In order to make the bikes more off-road-friendly, Can-Am mounted the carbureator on a passage behind the cylinder, feeding the mixture to the disc-valve, and keeping the engine more narrow. Long-travel suspension was another feature of the bikes, using telescopic front forks and twin rear shocks, drum brakes, wire wheels, and off-road tires. Not only were these bikes made for racing, but they were street legal, as well. They had a spark arrestor on the exhaust system, a speedometer, lights, mirror, and turn signals.
Word got out pretty quickly about these new Can-Am bikes, especially after Gold, Silver and Bronze medals at the International Six Days Trial were won on Can-Am's in 1973, and Gary Jones won the 250cc class of the 1974 AMA National Motocross Championship on one, too.
1978 brought about a larger five-speed 366cc model with a reed-valve engine with petrol lubrication, and all three of the models now had new rear shocks, Marzocchi front forks, and increased wheel movement. A six-speed gearbox was now standard for the 175cc and 250cc models. These changes essentially made them purely for enduro racing, and they were named the Qualifier.
Now that there was an enduro line of bikes, Can-Am needed a motocross line. They released the 250 MX-5 and the 370 MX-5. Their engines were the sizes given by their names, and they had more power than the previous Can-Am's, and more wheel travel. In 1980, Can-Am added a 125 MX-5 to the motocross mix, and a 400cc to the Qualifier line. With the increase in emission regulations in the United States in the 1980s, Can-Am also began using four-stroke, single-cylinder Rotax engines with four-valves and an overhead camshaft.
Bombardier, feeling overwhelmed with all of their snowmobile orders, decided to outsource development and manufacturing of Can-Am's to England's Armstrong/CCM. They however did not keep up with it, and 1987 was the last year that Can-Am produced off road bikes.