Bultaco Pursang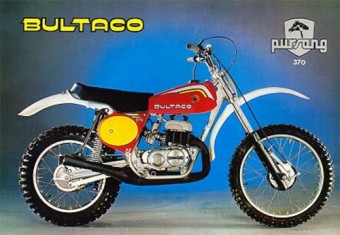 Bultaco's main line of motocrossers was the Pursang. The Bultaco Pursang first hit the market in 1965. The leading model in the United States was the 250cc, but Pursangs were built in various engine sizes including 125cc, 360cc and 370cc. Pursangs were always known for their power and excellent handling.
For example, the 1970 250cc Pursang had a single-cylinder two-stroke engine with a displacement of 244.29cc and a bore and stroke of 72x60mm. A 32mm Amal carburetor was used, and the bike had a five-speed gearbox. The front forks had 6 1/2 inches of travel. The back suspension had 5-way adjustable shocks with hydraulic dampening and provided 3 15/16 inches of travel. The 1970 Pursang had 9 5/8 inches of ground clearance and had a dry weight of 220.4 pounds.
Jim Pomeroy was a key player in making the Pursang popular in America. Pomeroy became the first American rider to win an FIM international motocross race aboard a Spanish-made bike when he raced a 1973 250cc Pursang in the 1973 Spanish motocross grand prix. He not only became the first American to win on a Spanish bike, but also the youngest rider to win a World Championship Motocross Grand Prix and the first rider to win this type of event in his debut race. Bultaco Pursangs have continued to leave a mark on the vintage motocross community as they are a popular choice among vmx riders.