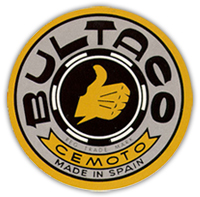 The origin of Bultaco motorcycles dates back to May 1958. Francisco "Paco" Bultó was a director of the Montesa motorcycle company founded in 1944. Bultó decided to leave Montesa in 1957 to concentrate on his other business interests. Perhaps unsurprisingly, the majority of Montesa's racing department left shortly afterwards as well. The suggestion to form a new company is said to have come a few days later when Sr. Bultó was invited to a meeting by several of the former staff of Montesa's racing department. Keen to return to racing, they persuaded him that their greatest hope lay in forming a new company.
Setting up shop in very primitive conditions at an old farm owned by Bultó, things developed quickly and in February 1959 Bultaco held a press day, launching their first bike, the road-going 125cc Bultaco Trala 101. Just two months later Bultaco entered its first Spanish Grand Prix taking seven of the first ten places.
BULTACO comes from combining the first four letters of Sr. Bultó's surname with the last three of "Paco", his nickname (BULT)+(ACO). CEMOTO is an acronym for "Compañía Española de Motores". The other part of company logo, the "Thumbs up" symbol, came after Sr. Bultó witnessed British motorcycle racer David Whitworth giving the signal to his pit crew to signify that all was well.
Bultaco's premier model in the USA, the Pursang, was an excellent handling and powerful 250 cc competition model that could readily compete in virtually any type of speed-based off-road competition. In later models this was expanded to 125cc, 360cc and 370cc Other models, such as the Sherpa T (trials), the Astro (flat tracker) and the Matador (trail bike), provided more targeted approaches to specific types of races.
Due to industrial unrest and market pressures, Bultaco production closed in 1979. The factory reopened in 1980, but closed again in 1983. In 1998, rights to the Bultaco name were purchased by Marc Tessier who used it to help launch a range of purpose-built trials motorcycles from his company Sherco Moto S.A.R.L. The bikes were initially named Bultaco Sherco's, then in 2000 the bikes became 'Sherco by Bultaco' and in 2001 the Bultaco name was dropped altogether.