1983 Yamaha YZ80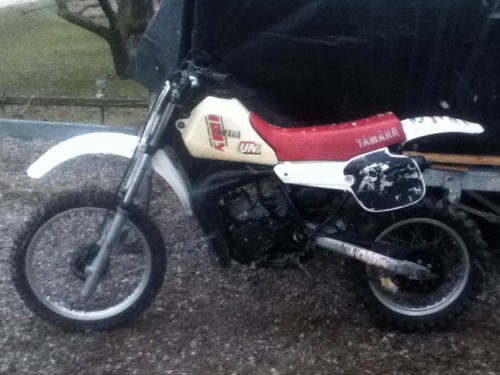 This showcase bike is a little different than our usual fully restored gorgeous showroom display bikes, and that's ok! Here we have a 1983 Yamaha YZ80 super mini. This one belongs to Cole Parker of Chatham-Kent, Ontario, Canada. Just saying his location made me cold. Anywho, we think this is worthy because this little bike is 31 years old, and looks to be a survivor! Plus as Cole adds "it is very fast", that's what matters, right?! Here's what Cole says about his '83 YZ80.
Hi everyone. I just got my second dirt bike, A 1983 Yamaha YZ80, moving up from a 1982 Honda Xl80. It is not mint, or restored, but it is very, very, very fast and puts my friends CRF100 in the dust! About 1 month ago, before I got the bike, it got new Wiseco piston and rings, so it has sweet compression. With a little work this bike will be stomping all of my friends "high performance china bikes" and other four strokes. 🙂 The only thing I need to worry about is my best friend's 2006 Kawasaki KX100.
Thanks for sharing your 1983 Yamaha YZ80 with us Cole, stay warm and make sure you always gear up!
Cole's 1983 Yamaha YZ80 Gallery