1979 Yamaha YZ125F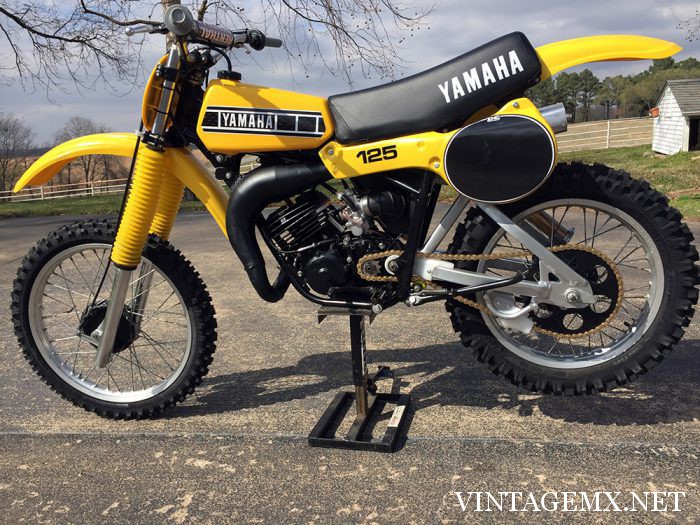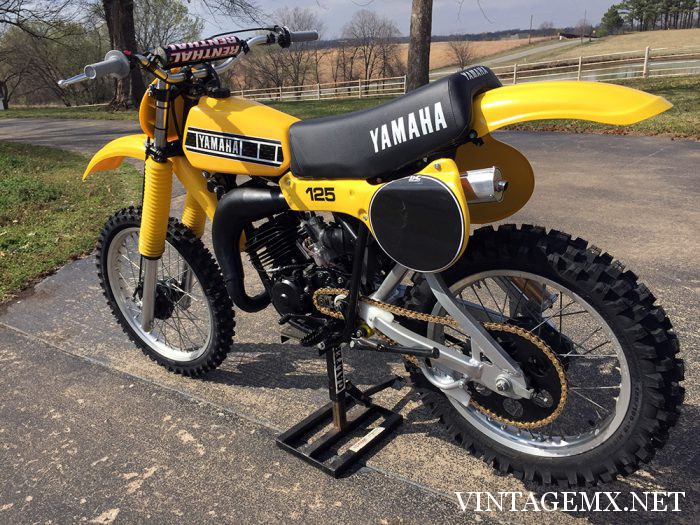 This excellent showcase bike is a 1979 Yamaha YZ125F restored by Brad Nuckolls. Brad put in a little green into this yellow machine, but just check out the results! Below are Brad's comments.
This is a numbers matching bike, completely tore down and restoration. This bike ran perfectly before the restoration, but just looked very used. I have only ran the engine through 2 heat cycles on the stand since the rebuild.

It has the original kickstand installed. It leans a little too far with the longer suspension installed, but it does work. Spokes, rims, hubs, ignition, except for the new kill switch, clutch plates/basket and exhaust are about the only things that have not been touched or upgraded on this bike.

Motor

2MM over bore w/Wiseco Piston and ring
Rod and main bearings
Every seal, gasket, nut and bolt have been replaced.
Repainted and reassembled
Intake boot
Boyesen dual stage reeds
Mikuni VM32SS carburetor (not a cheap imitation), jetted to the 1979 updated Yamaha service data specs
Crankcase vent
Stock exhaust, with aluminum silencer

Chassis

Stripped and painted
DID ERT Gold chain and JT sprockets
Chain guide, roller and swing arm slider
Steering head bearings
Front/rear wheel bearings and seals
Michelin Starcross tires front/rear
D.C. Plastics fenders, front and side plates
Graphics
Renthal vintage bend bars, and grips
Seat foam and cover
Clutch and brake levers
Cables
UNI air filter
Swing Arm bearings and seals
Exhaust and kickstand springs
Exhaust mounting bracket
Brake shoes front/rear
Gas tank looks almost new, (after 8 hours of wet sanding and polishing to get it back to its original glory)

Suspension

Front forks and triple clamps have been upgraded to 1980 YZ250 38mm forks, the 1979 YZ125 came with shorter travel 36mm forks
Seals, wipers, boots and fluid installed
The Rear shock is a White Brothers upgraded mono-shock and has dual stage stage springs with external oil reservoir installed. There has been no leaking or problems with the shock, so it hasn't been rebuilt.
1979 Yamaha YZ125F Facts
The legendary Broc Glover won the 125 National Championship aboard the YZ125 from 1977 to 1979. The stock 1979 Yamaha YZ125F produced 22.67 horsepower produced from the 123cc engine.
Have you ridden the 1979 Yamaha YZ125F? Leave your comments and experience with the bike below!