1974 Ossa Phantom 250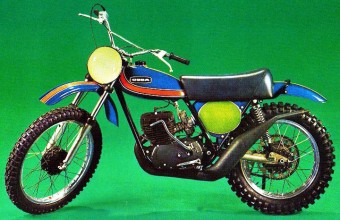 After the nearly immediate success of the 1973 Honda Elsinore, Spanish motorcycle manufacturer Ossa needed to come up with something that could give the Elsinore a run for its money. The result? The 1974 Ossa Phantom 250. This motocross racer was a 198-pound 250cc two-stroke machine with a 5-speed transmission and left-side shifter. It had a Motoplat ignition, a Bing carburetor, and telescopic suspension.

The 1974 Ossa Phantom 250 was as powerful as it was reliable. At 5500rpm, the Phantom had an impressive output of 33-horsepower. The Phantom was able to beat out the Elsinore on the top-end, whereas the Elsinore had more mid-range. The Phantom's chrome moly frame construction made it very strong and light, making the bike agile and easy to maneuver. The swingarm was aluminum, making the Phantom even lighter.
At an original price point of around $1300, the Phantom 250 was priced competitively compared to other company's 250 models.
The blue and orange fiberglass tank and the low, black exhaust pipe gave the Ossa Phantom a look that went right along with its name. This bike was very easy to spot in crowds, and still is today.