1973 Suzuki TM-250K Champion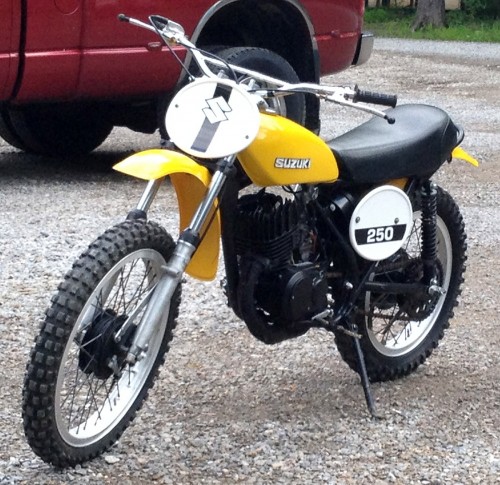 It's been a while since our last showcase bike submission, and this one comes from Mike of Randolph, Ohio! Here we have another classic 1973 Suzuki TM-250K Champion! I think it's safe to say that most vintage mx bikes don't have such a clean history like this one does, and it shows.
A 1973 Suzuki TM 250 Champion, the motor's never been apart and still has the original tires! There is new paint on the gas tank, and the bike came with the factory badges and decals. It was bought as a left over in 1974. I have the original title and bill of sale from dealer in Revina, Ohio when it was new. I still have the tool bag and jet kit for carb and factory manual. I ran it on the farm and parked for 30 years. It still will start first or second kick every time!
I don't know what you guys think, but I would like to see a few more pictures, what do you say Mike?! Share your comments and information about the 1973 Suzuki TM-250K Champion below!
Ken Lilley's TM-250K Champion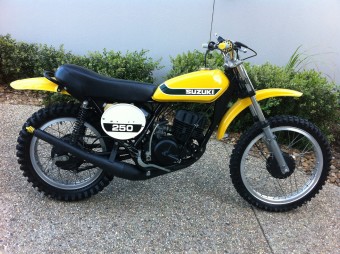 Here is a great example of another Suzuki TM, thanks to Ken Lilley of Brisbane, Australia. His 1973 Suzuki TM-250K Champion is nearly 100% period correct, and looks stunning.
A restoration designed for racing, rather than displaying in the lounge room. Future work includes finding an original pipe and the original metal frame for the air filter. The tank badge is also incorrect, it should just be a sticker.
Just like it's predecessor, the 1972 Suzuki TM-250J Champion, the 1973 Suzuki TM-250K Champion was nick named the "Champion" because of Joel Robert who rode his Suzuki to a 250 MX world championship 3 years in a row (1970-1972).
The tank badges on the '72 were replaced with stickers on the '73 model along with an updated clutch.
1973 Suzuki TM-250K Champion Specs
Aluminum Alloy Rims
21″ Front Wheel
5-Way Adjustable Rear Shocks
Length of 83.9″
Width of 34.3″
Wheel Base of 55.9″
Ground Clearance of 8.1″
Weighed 220 lbs.
246cc Air Cooled Engine
Pointless Electronic Ignition System
Bore and Stroke of 2.76″ × 2.52″
Produced 28hp at 7000 RPM
5 Speed Transmission
7.1″ of Front Fork Travel
Fuel Tank Capacity of 2.4 Gallons
Oil Tank Capacity of 1.3 Pints