1973 Suzuki TM-250K Champion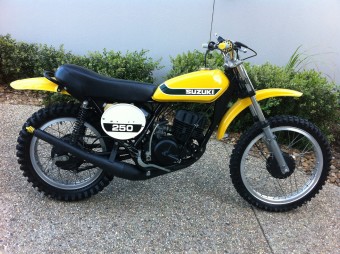 Here is a great example of another Suzuki TM, thanks to Ken Lilley of Brisbane, Australia. His 1973 Suzuki TM-250K Champion is nearly 100% period correct, and looks stunning.
A restoration designed for racing, rather than displaying in the lounge room. Future work includes finding an original pipe and the original metal frame for the air filter. The tank badge is also incorrect, it should just be a sticker.
Just like it's predecessor, the 1972 Suzuki TM-250J Champion, the 1973 Suzuki TM-250K Champion was nick named the "Champion" because of Joel Robert who rode his Suzuki to a 250 MX world championship 3 years in a row (1970-1972).
The tank badges on the '72 were replaced with stickers on the '73 model along with an updated clutch.
1973 Suzuki TM-250K Champion Specs
Aluminum Alloy Rims
21″ Front Wheel
5-Way Adjustable Rear Shocks
Length of 83.9″
Width of 34.3″
Wheel Base of 55.9″
Ground Clearance of 8.1″
Weighed 220 lbs.
246cc Air Cooled Engine
Pointless Electronic Ignition System
Bore and Stroke of 2.76″ × 2.52″
Produced 28hp at 7000 RPM
5 Speed Transmission
7.1″ of Front Fork Travel
Fuel Tank Capacity of 2.4 Gallons
Oil Tank Capacity of 1.3 Pints