1972 Suzuki TM-250J Champion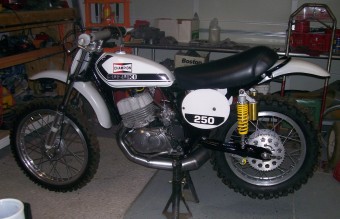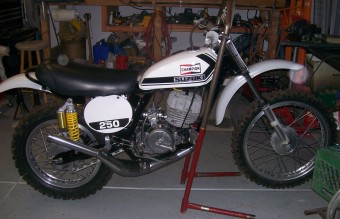 Our old friend Klaus Ramsey has done it again. Klaus shares his 1972 Suzuki TM-250J Champion this time around. Here's what Klause says about his TM:
This bike raced the Mint 400 twice back in the day.The Frame has been modified along with the swingarm. It features JRM shocks, heavier springs in the forks, uni air filter, aluminum bars, Scott grips, AirCone Pipe, Motoplat coil, Dunlops (front & rear), Barnett clutch plates, RK chain, Sprocket Specialist (front & rear), Wiseco piston 2nd over and AMS Plastic.
Did you know that the 1972 Suzuki TM-250J Champion was nick named the "Champion" because of Joel Robert who rode his works 1971 RH250 to an MX world championship? The five speed TM 250 was actually based on Suzuki's enduro model. The original plastic and tank was Suzuki (Aspen) yellow, however we like Klaus's white scheme! The TM 250 was replaced in 1976 with the Suzuki RM250.
Have you ridden or owned one of these? If so, leave your comments on the '72 Suzuki TM-250J Champion below!