1972 Greeves 380 QUB Griffon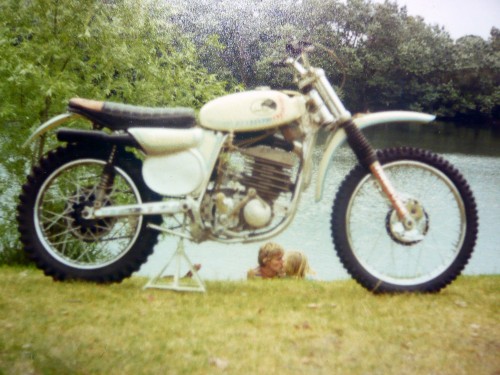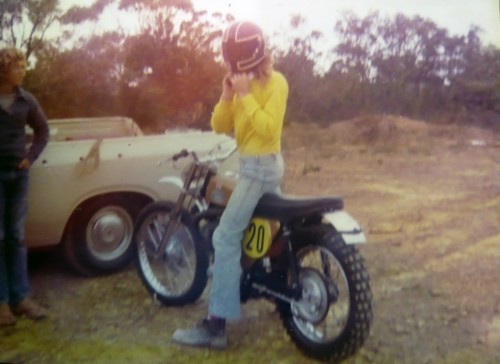 Today we have a great story and rare bike to enjoy from our new Aussie friend. The bike is a 1972 Greeves 380 QUB Griffon, the man is Barry Patterson. Here's Barry's story.
In 1970, I was 16. I had been racing scrambles for 2 years and was a 1st year apprentice plumber. I bought a '68 250 Challenger and instantly, I was considered a threat in my club, St George MCC, 100 years old in July. I loved it. I came 3rd outright in the NSW open C grade championships in 1971, losing by metres from a 400 Maico and a 400 Husqvarna.

In 1972, I bought a Greeves 380 QUB Griffon, one of only 3 in the country. It went well, with torque like a tractor, but it didn't have the handling of the Challenger. I decided to modify it, the Metal Profiles forks were pathetic and replaced by the factory with Cerianis. I imported "Alloy Arnaco" shocks from the states, along with a 6 petal reed valve and 38mm Kendick pumper carb from a snow mobile, modified for a bike. I got dad to grind new transfers into the back of the barrel, cut and drilled the piston, matched and cleaned the ports and polished the transfers.

I then cut the fins in the fashion of the CCM but different and drilled holes through the head and cylinder fins too. I made a lever from alloy, and bolted to the top of the gearbox which made the clutch action a two finger proposition, instead of the super human mechanical arm needed with the original.

All this, and I was 18, a 4th year apprentice. I then went mad with a drill, polished and chromed the frame, like a CCM, and chromed the spokes, as well as lots of other parts. I used dad's lathe to convert the rear brake into a full floating item and to make a folding brake lever. An alloy tank was imported from Greeves and the seat was hand sewn leather by a Saddler friend with "QUB" engraved into the rear.

My mates called it the "GREEVIOUS BODILY HARM" such was it's power, they were not used to an open class 380, a Suzuki 250 Savage was considered state of the art power to them.

Not too many bikes would keep up with it in dirt track, Aussie road race on dirt. I won many races in that particular field, but motocross was invaded with the Jap things and even Maico and Husky were way ahead of my pretty Griffon.

I sold it and went sailing, but it caused lots of interest when I raced it, my love for Greeves is still there.

I have just purchased a 1969 380 Griffon in need of total restoration, picking it up on Saturday. What a bloody find!! I even got a spare frame, but it needs many parts. It has Earls Forks too, so is quite rare indeed. It will not be modified, as I am now all grown up and just want to ride it in a fast, but safe manner.
Thanks for sharing Barry, sounds like you had some good times!