Vintage Motocross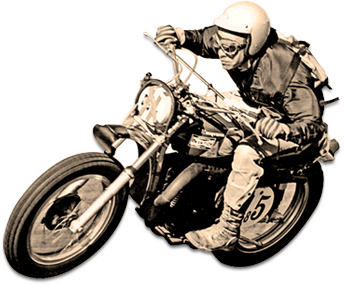 What we know today as "motocross" began in northern Britain, in the early 1920s, and was an off-road event known as "Scrambles". The first "Scramble" was ridden in 1924 in Camberley, Surrey. The dirt bikes of that period weren't very different from the road bikes, however, the intense off-road competition quickly led to technical improvements, such as the addition of suspension to the bike in the 1930s.
With the popularity of motocross on the rise world wide, it was only natural for a country versus country competition to arise. The competition would be an annual event called Motocross des Nations, with each country's team being comprised of three racers. The first race was held in 1947, and won by Great Britain. Great Britain only lost six times between 1947 and 1968, making them the obvious initial threat. Belgium became the dominating force through the 1970s, but once the United States entered the picture in 1981, no one else would take the prize again until 1994.
Now that motocross fever had spread most of the globe, and Motocross des Nations had become a yearly team tradition, a solo championship was needed. The first World Championship in motocross came in 1957, and was raced with each rider using a 500cc dirt bike. The 250cc class was added to the championship competition in 1962, making way for the two-stroke motocross bikes. It was then that the weight and easier riding ability of the two-strokes allowed companies such as Bultaco, CZ, Maico, and Husqvarna to take over the market. The 125cc World Championship class was introduced later in 1975.
In the early 1980s, Japanese bike companies began making major changes to the typical motocross bike. The bikes became water-cooled and with monoshock rear suspension, which started with Yamaha in 1975. The 1990s brought even more change when Californian environmental laws forced manufacturers to develop more environmentally friendly four-stroke bikes, yet many still prefer 2 stroke models for off road, woods style riding.
VintageMX.net is all about helping to preserve motocross history and information and to help make sure that these classic bikes and the origin of motocross never gets lost. Be sure to comment on racers, models of bikes, post a motocross event, show off your bike, join our free network of members, buy, sell, trade, whatever. Just have fun!
Vintage MX Bikes, Parts, Gear & Apparel