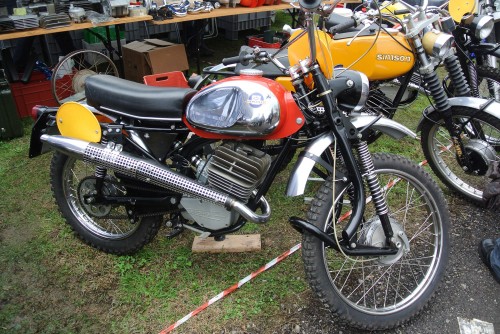 Hercules motorcycles was founded in Germany in 1886, by Carl Marschutz. However, their first motorcycle was not produced until 1904. It was made using a heavy bicycle frame and a small engine. Over the next years, Hercules powered their bikes with engines from a wide range of suppliers including Columbus, Fafnir, JAP, Ilo, Sachs, and Villiers.
By 1930, Hercules was enjoying success. They had been producing motorcycles of various sizes and engines, and were making a good name for themselves. Despite their success, however, World War II took its toll on the business. Not only had Hercules taken an economic beating, but being headquartered in Germany, they took a physical beating, as well. They were fortunate enough to overcome such destruction, and resumed production in 1950.
Due to the economical loss caused by the war, the first "post-war" Hercules bikes were extremely basic. The German population had lost much of its means of transportation during the war, so Hercules' first bikes were marketed toward the typical commuter. This proved to be a wise decision, and Hercules began making a profit again, allowing them to further develop more models.
Hercules motorcycles kept becoming more and more advanced, and this was proving well for them. They began producing more luxurious bikes, as well. They were doing very well in the exportation of their bikes, with Belgium, Holland, and Switzerland being the top markets. As far as the sizes of their bikes, Hercules liked to stay consistent, focusing on the 50cc, 80cc, and 350cc sizes.
Like many of the previous management choices, sticking to on a few sizes was a good choice for Hercules. Germany's motorcycle market took a dive in the mid-1950s, but Hercules didn't suffer much because they were not expanding, and were not working on many new models at the time. The drop in the market hit their rivals much harder, and they were able to acquire Rabeneick in 1958.
Hercules' success continued to rise, and they became a part of the Zweirad Union in 1966. The Zweirad Union was then purchased by Fichtel Sachs in 1969, but Hercules always stayed its own company. The excellent management of the firm meant that they were never sold off, merged, or closed, like some of their Fichtel Sachs counterparts. 1976 brought about another change in ownership. This time it was Guest, Keen, and Nettlefold (GKN). Again, Hercules was allowed to remain unchanged.