Bultaco Matador MK2 250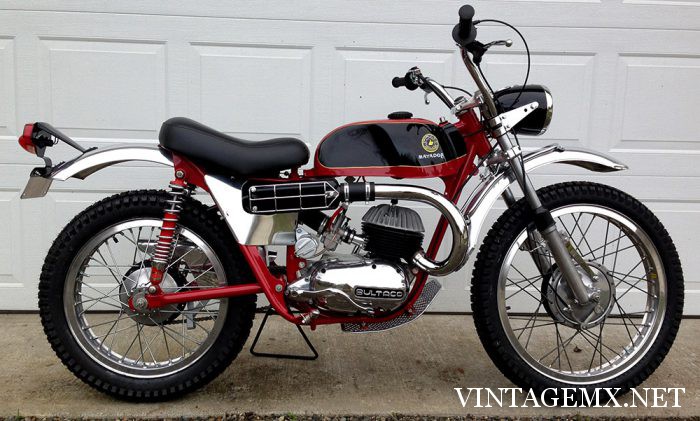 1965-1967 Bultaco Matador MK2 250 4 Speed Model 16
If you love vintage Spanish off-road racers, then you'll love this properly restored Bultaco Matador MK2 250 Model 16. This Matador belongs to Robert Swift. Here is Robert's story about his Bully.
Having never owned or worked on a Bultaco when I saw this bike on local Craig's List I had to have it. It was in pretty rough shape, had a lot of parts missing and did not run, but I still wanted it.

My original thoughts were to just clean it up and get it running well. Got it home and started tearing it down and decided a full restoration might be fun. Having never done a full restoration I did not know what I was in for. Six months of most every evening working on it and this is the result.

First thing was to send the motor to Lynn Mobley for a complete overhaul. All the other work and painting was done by me. Frame was bead blasted and painted with acrylic enamel. The tank was striped, repainted, new decals installed, and the inside cleaned and sealed with Caswell. All chrome parts were re-plated by American Plating in Centralia, WA. Seat was rebuilt by Richard's Upholstery in Olympia, WA. New fenders and side panels (and many other parts) from Hughes Bultaco. All the bolts were re-plated or replaced with Bultaco 80 stamped bolts. All the aluminum parts were polished. The original wiring had been pulled so that was all redone. Countless hours were spent on eBay finding the parts needed.

The bike runs and rides great. It has a lot of power and low end torque.
Thank you Robert for sharing your Bultaco! This restoration deserves a big thumbs up! Yes, pun intended.
Bultaco Matador MK2 250 Restoration
---
Read more about Bultaco motorcycles and the Matador history! Leave your comments about the Bultaco Matador MK2 250 below!