1994 Suzuki RM250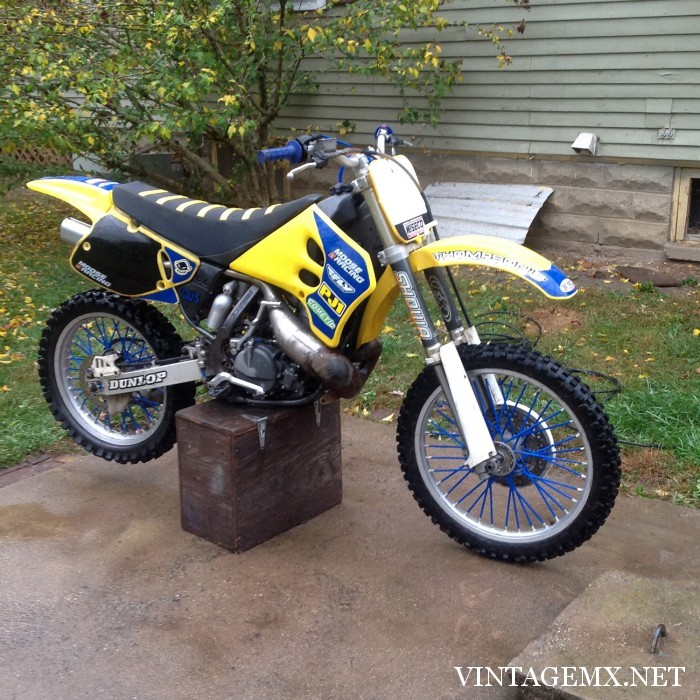 Today we have a very cool story from William Sandberg, a young man who proves you can have 250cc full of fun on a budget, and look great while doing it! Why aren't more youth in America this savvy? I digress, so here is what William has to say about his 1994 Suzuki RM250.
I have a 1994 Suzuki RM250 that I have restored. I purchased the bike for $300 and it didn't run. The guy I bought it from had no idea what was wrong with it, but it turns out the carburetor just needed a bit of cleaning, because there was rusty water in the bottom of it. However, I was able to get it fired up the same day I bought it.

The original graphics were junk, so I stripped them all off, and re-did all of the graphics. I hand made all of the graphics out solid sheets of color: blue, black, white etc. I cut out the shape I wanted with scissors and applied it to the plastic. I sprayed soapy water on the plastic and placed the sticker about where I wanted it. The soap allowed me to move the sticker around exactly where I wanted it. Then, I used a hair dryer to heat up the sticker enough to where it formed around the curves, and bends on the plastic with no wrinkles or creases. Next, I kept applying heat to the plastic and pushing the water out from underneath the sticker with my thumb.

Once all the soapy water was out, the graphic was secure, and everything looked right, I started adding stickers to the sheet of graphic. I was pleased with the final result. I bought a new rear fender because the other one was junk. I bought a new seat cover, because the original one was very ugly and dingy looking. The next thing I bought were some blue spoke skins. I bought some blue handlebar grips and a new air filter. Other than a few things here and there, thats all that I did to the bike.

It needs a new exhaust pipe somewhere down the line, but it works fine now so that's not on the top of my priority list. I am very pleased with the way the bike turned out, and I don't think I could have found a better deal. Be sure to check out my Dad's 1984 CR80 that he restored!
1994 Suzuki RM250 Facts
The 1994 Suzuki RM250 produced an impressive 51 horsepower with a 5 speed transmission. Couple the 51 ponies with the bike's weight of only 215 pounds (dry), and you have a flickable, fun powerhouse.
Well William, I think we can all say you definitely inspired us to start checking our local listings more often for great potential deals like you this. Thanks for sharing!
1994 Suzuki RM250 Gallery