1989 Honda CR125R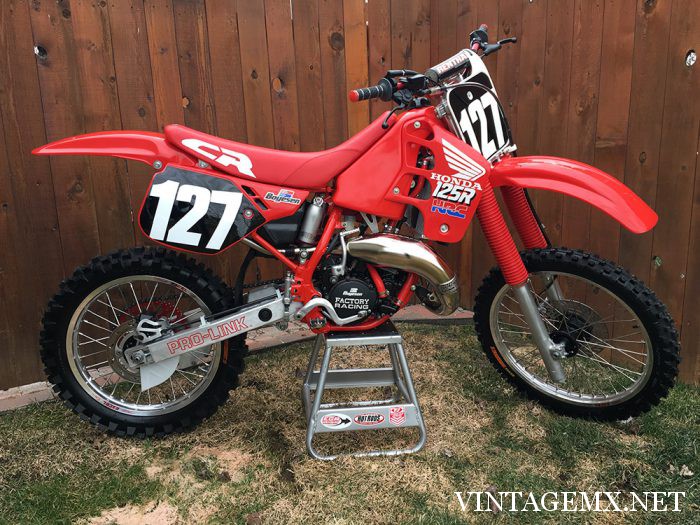 Thanks to Eric Bakie, we have another great red rocket to add to our showcase! This 1989 Honda CR125R is a great restore and has been gone through from bottom to top. Though the pictures speak for themselves, below is Eric's story and details of this incredible 1989 Honda CR125R!
The Restoration of the 1989 Honda CR125R
Mid-December 2015, I found a 1989 Honda CR125 for sale on Craigslist locally in Kuna, Idaho. The bike was complete but was not running. I purchased it for $300 as a project bike for my second dirt bike restoration attempt.

Once fully dissembled, excessive corrosion was discovered in the right side cover, oil mixed with anti-freeze basically had destroyed all the aluminum clutch parts and the right side cover and water pump area. Also, at some point in time a past owner had attempted to re-paint the bike frame (without fully dissembling the bike), rhino lining and spray paint covered about everything. The linkage and swing arm bearings were rusted solid but luckily the rear shock shaft was not bent. The spokes on both rims were seized with rust and the rear rim was badly bent. Last, the gas tank was heavily oxidized along with the rest of the plastic.

I started the project by restoring the original gas tank. OEM parts were used to the extent possible sourced primarily from partzilla.com. OEM parts include clutch basket, pressure plate, inner hub, bearings, seals, basically anything in need of replacement that was still available from Honda.

I restored the swing arm using a mill file and emery cloth to remove scratches and gouges and applied a nice looking brush finish using a brass wheel and electric drill. The frame and rear shock spring were powder coated by Donnie at Primo Powder Coating in Meridian, Idaho.

Most all the bike parts were cleaned up in my kitchen sink by me and my 4 year old daughter who took a great interest in helping me work on this bike. I repainted the front and rear hubs and all the brake components in satin black before installing new bearings and seals.

I ordered a replica seat cover from eBay sold by Pit-Replica. Dave Fisher at Fisher's Upholstery in Eagle, ID repaired and revived the original seat foam and modified the Pit-Replica cover to achieve a perfect fit. I used new Excel rims and Buchanan Spokes. The front and rear suspension was completely rebuilt by Moto One in Boise, ID.

The engine was fully restored by Eric Gorr in Sheboygan, WI; engine work included powder coated cases, Boyesen clutch cover, ignition cover and reeds, bore and hone cylinder, new Wiseco piston, exhaust valve service, porting, crankshaft rebuild, new bearings, seals, water pump shaft, clutch kit, stator and fly wheel replacement. A right side cover from a 1993 CR125 replaced the badly corroded original.

I purchased two carburation options for this bike, a new 34mm PJ and a new 35mm PWK Quad Vent Air-Striker. A complete overhaul of the air box was performed to return it to like new condition. I replaced the original radiators and hoses with radiator kit sold by GPI Racing.

All ignition components are original. I installed a new Pro Circuit Platinum pipe and Pro Circuit 304 silencer. I used UFO side panels, radiator shrouds, front number plate, front fender and rear fender since I could not locate a source for OEM plastic. I installed a replica decal kit purchased from DC Plastics and created my own backgrounds using black bulk vinyl wrap.

Currently this bike serves as a garage trophy waiting to be placed on display at the Idaho Vintage Motorcycle Club's annual bike show.
1989 Honda CR125R Gallery
---
A trophy it truly is Eric, you and your daughter should be proud! What do you guys and girls think of Eric's 1989 Honda CR125R? Leave your comments below!