1988 Honda CR250R
Don Sass's 1988 Honda CR250R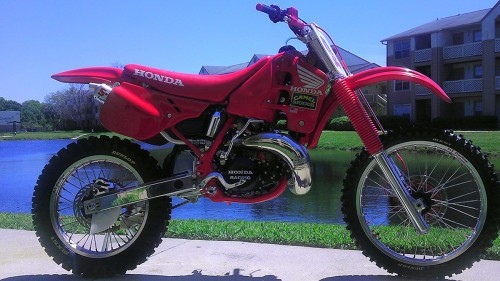 When I first received this 1988 Honda CR250R showcase bike submission from Don Sass of Tampa, Florida, I said "oooooooh my that's puurrrrrrrrrrty". My guess is you'll agree. I think it's one of the best restorations I've seen. The hours of love and labor that were poured into this bike is obvious. Partner Don's work ethic with one of the already best looking dirt bikes in MX history, and you sir have a real head turner.
This is my 1988 Honda CR250R a.k.a.(Bad Boy). My restoration project started from an idea to build a bike from used parts. The inception for this idea came to me as I browsed eBay one evening in late Nov. of 2012. I had noticed there was a market for these used parts for that particular year bike. That year of bike was the same bike I rode in my younger days in the deserts of So. Cal., one that brought me very fun memories!

Well a year & a half later, this is what I built. Major assemblies on this build were purchased used from eBay sellers. They were cleaned, sanded, painted, polished, for a like new appearance. Some parts were found as NOS OEM.

The frame was stripped down to bare metal and a few coats of Honda paint code R134 "Fighting Red" was applied along with some high gloss glamour clear coat to give it that factory original look. Rear swingarm was fully polished after four weekends worth of hand sanding & polishing using around a dozen different grits. VMX plastics, Boyesen rad valve, Hinson clutch basket, Wiseco piston & rings, D.I.D gold race chain, D.I.D. DIRT STAR original rims front & back, RAD MANUFACTURING spokes & nipples which were powder coated, along with the rear sprocket to give it that custom look.

The dirty work is handled by a set of Dunlop MX51's. The head pipe is a Pro Circuit Platinum series, while the muffler is a Answer S-11 Equilizer. Both mag. & clutch covers are Honda Racing issued covers to factory team bikes back in the day. Well I could write a book about this bike but I'm sure you will enjoy the photos even more. It was a pure joy to be able to take this project on, it was truly a labor of love. Hope you enjoy the photos as well. Captdon313.
Thanks for sharing your '88 CR with us Cap'n Don!
1988 Honda CR250R Gallery
Rob Croizier's 1988 Honda CR250R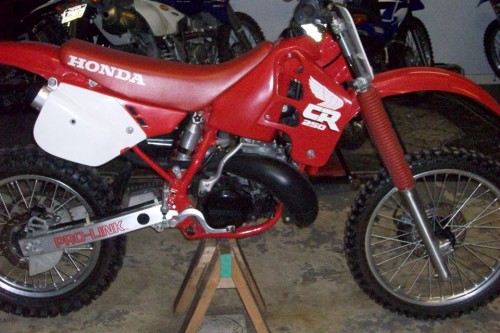 Today we're looking at a bike with supercar-like styling with a special story, a 1988 Honda CR250R. The bike belongs to Rob Croizier, of Pennsylvania, but used to belong to the one and only Mario Andretti. Here is Rob's story:
Totally original bike, well preserved for 23 years in a garage from no other than Mario Andretti. Most definitely one of the prettiest bikes ever built over the years. I've been riding motocross bikes since the age of 8 and it all started on an 1980 Honda XR80. I used to own an '84 CR250 until it got ragged out and couldn't get parts any more, I ended up selling it cheap, but it still ran. Then I picked up this bike from a guy who used to work on Mario's snow mobile at one time. When the deal came up I had to have it, and almost didn't get the bike. Thing's worked out and here it is.
The 1988 Honda CR250R was a true thing of beauty to look at, but at the time was a very controversial bike. Honda re-did just about everything for the 88 CR250R, and turned it into a bike built more for pro level supercross riders, compared to the '87 CR250 that everyone loved. Check out Pulp MX's great write up of the 1988 CR250R for more details.
Paul Romano's 1988 Honda CR250R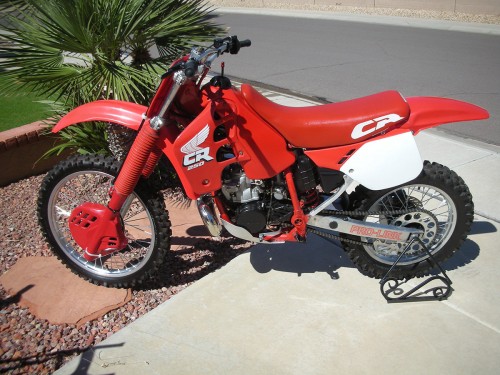 Here is another excellent example of one of the best looking mx bikes ever created. This one belongs to Paul Romano from Phoenix Arizona and here is what he has to say about his 1988 Honda CR250R.
I purchased this Honda in 1988. The bike was ridden for 10 years straight on a single track desert, Arizona high country trails and a few dune trips. Oil changes and air filter cleaning done regularly. Never did I have any breakdowns or ever even open the engine cases. Finally a blown head gasket on a dune trip caused my first issue. I noticed a loose spark plug in which I was responsible for.

I had the cylinder re-nikasil and top end done. Also, all shocks were rebuilt and most bearings replaced. Thanks to eBay, I replaced the plastics and spent $1,200 on a brand new OEM complete wheel set. After spending thousands I couldn't bare damaging anything riding it in the desert. I have all OEM parts including both exhaust pipes which are new and have many other pieces bought over years of eBay shopping that I still need to install on the bike.