1987 Honda CR250R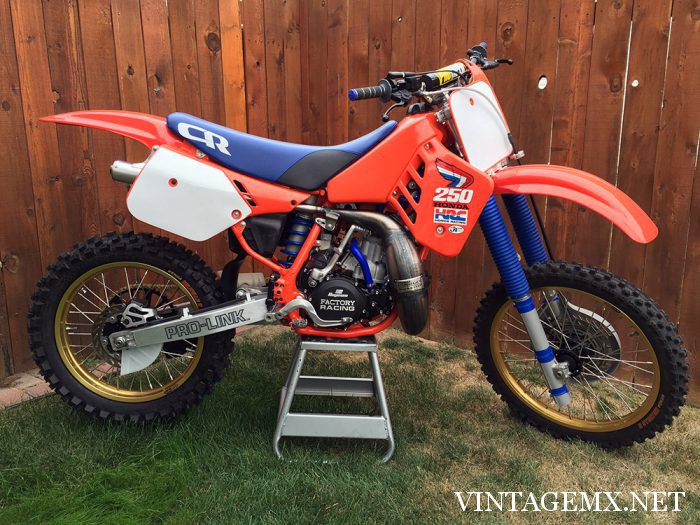 Today we have a mouth watering 1987 Honda CR250R that has be shared with us by owner Eric Bakie! Enjoy what Eric has to say about his Honda.
I remember standing in Coeur d'Alene Honda at the age of ten in complete amazement as I gazed upon the line-up of brand new 1987 Honda CR250Rs. I have wanted that year, make, and model of motorcycle ever since. In 2015, while browsing Craigslist during my lunch hour, I found a 1987 Honda CR250 for sale locally in Boise, Idaho. I dropped everything I was doing and contacted the seller to arrange a time to go buy that bike.

The seller of this bike was the son of the original owner and the bike still started second kick. I was in disbelief when I was told that the address where this bike was located was only a three block detour from my normal route home; it felt like I was destined to own this bike and all the pieces were falling into place. I dropped by that evening and bought the bike which also included the original owner's manual. My lifelong dream of owning a 1987 Honda CR250 and personal journey of starting my first bike restoration was now underway.

Once fully dissembled, I discovered the rear shock shaft was bent, the swing arm and linkage bearings seized by rust, the end of the left fork piston was broken off, which explains the wicked head shake this bike had before I took it apart. The front and rear rims both were cracked. The rear rim had severe corrosion as did the water pump area and both radiators. Water pump corrosion is very common on this year of bike due to the magnesium right side cover. The gas tank was badly oxidized along with the rest of the plastic which were all original OEM parts.

I started the project by restoring the original gas tank using a razor blade, S.O.S. and Scotch-Brite pads, 320-2000 grit sandpaper, plastic polish and buffer. OEM parts were used to the extent possible sourced primarily from www.partzilla.com. OEM parts include front and rear fenders, bearings, seals, bolts, cables…basically anything in need of replacement that was still available from Honda. I restored the swing arm using a mill file and emery cloth to remove scratches and gouges and applied a nice looking brush finish using a brass wheel and electric drill.

The frame was powder coated by Donnie at Primo Powder Coating in Meridian, Idaho using Honda Flash Red powder purchased from All Powder Paints located in St. Petersburg, FL. Donnie also powder coated the rear shock spring with a blue powder that closely matched the original color. Obsolete parts were sourced from eBay which included a set of front forks from Maine, rear shock for North Carolina, missing OEM hardware such as hard to find exhaust spacers which came clear from the UK. Most all the bike parts were cleaned up in my kitchen sink by me and my 3 year old daughter who took a great interest in helping me work on this bike. I repainted the front and rear hubs and all the brake components in satin black before installing new bearings and seals. I ordered a replica seat cover from eBay sold by Pit-Replica in Bangkok, Thailand. Dave Fisher at Fisher's Upholstery in Eagle, ID repaired and revived the original seat foam and modified the Pit-Replica cover to have a perfect fit. I used new Sun Rims and custom spokes built by Buchanan Spoke and Rim. The front and rear suspension was completely rebuilt by Moto One in Boise, ID.

The engine was fully restored by Eric Gorr in Sheboygan, WI; engine work included powder coated cases, Boyesen clutch cover, ignition cover and reeds, boring to 265cc, exhaust valve service, porting, epoxy coating the water pump area, cylinder re-plating by U.S. Chrome, crankshaft rebuild, new bearings, seals, water pump shaft, and clutch kit. The cylinder head was left bare aluminum rather than painted satin black like the production bikes of '87.

The original 38mm PJ carb was replaced with a 38mm PWK Air-Striker. I purchased a used air boot in better condition than the original and completely overhauled the air box by cleaning, sanding, sealing, polishing and repairing several stripped brass inserts. I replaced the original radiators with new custom built Myler Supercooler Radiators and the original hoses with a kit sold by GPI Racing. All ignition components are original. I installed a new Pro Circuit "Works" pipe and Pro Circuit 304 silencer. I also restored the Krause Cannon pipe that the original owner had installed when he purchased the bike new. I used UFO side panels and radiator shrouds which were on backorder and took six months before they were shipped to me from Italy. I installed a replica decal kit purchased from DC Plastics and created my own backgrounds using white bulk vinyl wrap.

I spent a total of eleven months working on this restoration and am very pleased with the results especially with it being my first bike restoration. The bike started second kick upon completion and has only been ran long enough to tune the slow jet in order to establish an acceptable idle. I shared photos of the restored bike with the original owner who told me he thought this project was really cool and thanked me for sharing the final outcome as it brought back many memories for him riding that bike. He said he was glad to see the bike restored back to near original rather than being parted out.

Currently this bike serves as a garage trophy waiting to be placed on display at the Idaho Vintage Motorcycle Club's annual bike show, after that I plan on riding it and racing it in the Vets Class at the local track.
Eric, thank you for sharing your great story and the eye candy with us! What do you think guys? We think Eric did an excellent job. Leave your comments on this 1987 Honda CR250R below!