1986 Honda CR500R
Let's take a look at the latest showcase beast, a fully restored 1986 Honda CR500R. These bikes are still known today for their insane amounts of power, and plush Showa forks. Some would argue that you have to be a little on the crazy side, or at least an expert level rider to really ride one of these! Well, crazy or not, this one belongs to proud owner, Steve Smith.
This is a fully restored 1986 Honda CR500. Everything has been completely rebuilt. The engine has a refurbed crank with a new rod, 91mm Wiesco piston, bearings, seals, PVL ignition, Boyesen rad valve, Keihin PWK carb, and an atomic 22 exhaust flange.
The frame is powder coated as are the hubs and the coil spring on the rear shock, which has been rebuilt along with the front forks. New steering stem bearings and seals along with new wheel bearings and seals and new rims. The swing arm has new bearings and seals, along with new chain guides and rollers, sprockets and chain, front and rear fenders and tires, new brakes front and rear, rebuilt master cylinder, brake line, handle bars, kill switch, grips, all the water pump parts are new and I still have to finish the seat.
I started April 2014 and finished December 2014.
Thanks for sharing Steve!
Share your comments and experiences about the 1986 Honda CR500R below!
Rick's Trick 1986 CR500R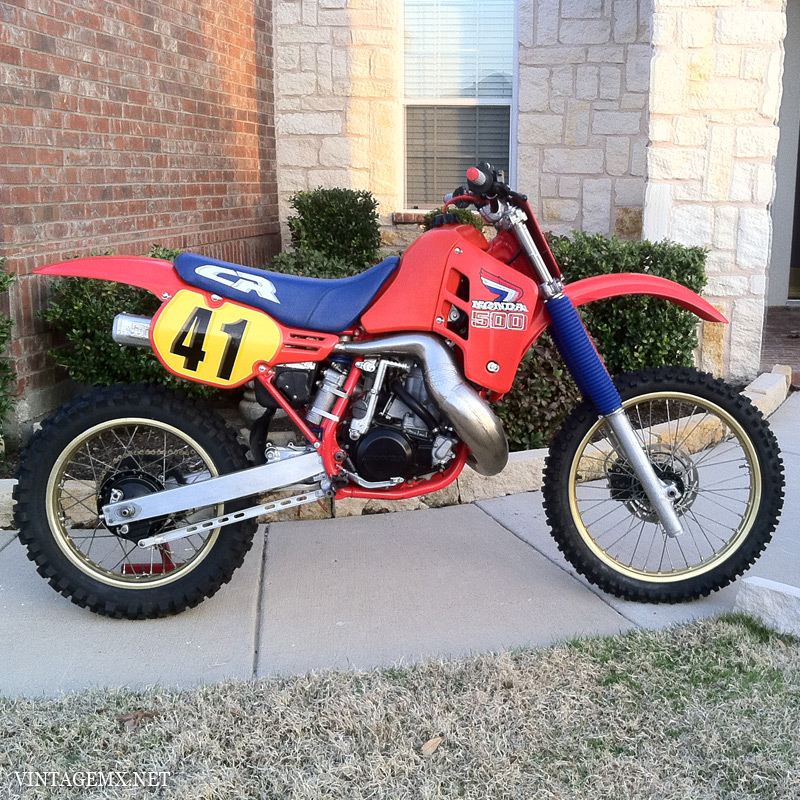 Check out this killer fully restored 1986 Honda CR500R! This is an iconic beast in the open class. Fun fact, in 1986 David Bailey rode his Honda CR500R at the Motocross Des Nations and dominated.
This bike belongs to Rick of Rockwall, Texas. The list of new parts on this bike is about a mile long. Here is Rick's description of his bike:
The engine has been rebuilt including new piston and rings, crankshaft, clutch pack and baskets, all engine bearings and seals, and new gears in transmission. The frame has been powder coated, it has new swing arm bearings and seals and steering bearings. New plastics on the bike include a new fuel tank, new side panels and front number plates and radiator shrouds.

This CR has a new air filter, seat cover, rebuilt calipers, brake pads, hose and cables. New OEM kick starter and gears, OEM shifter, OEM rear brake lever, clutch and front brake lever, rebuilt front master cylinder, aluminum handle bars, and pro taper grips. The rear brake has been rebuilt and has new brake pads. The FMF pipe is coupled with a DG silencer and the bike also features custom foot-pegs, new throttle and clutch cables, and a new throttle housing and tube.