1983 Yamaha YZ250K (Black & Yellow Model)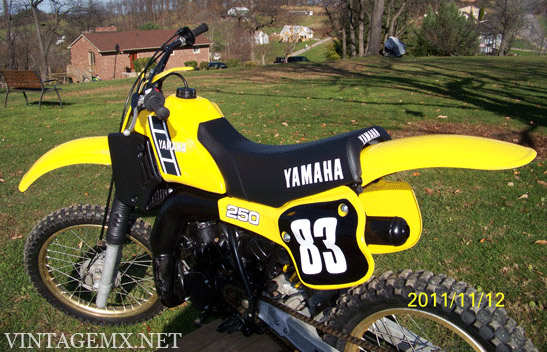 Here we have a really nice restored black and yellow model 1983 Yamaha YZ250K from Brian Donovan of Monaca, PA. Check out the white and red model here.
Here is what Brian says about his bike:
1983 Yamaha YZ250K
I have owned this bike since I was 15 years old. However, I have just recently restored it after getting tired of my friends making fun of my old junky bike. One so called friend went as far as calling my bike a dinosaur… but became very quiet when this very prehistoric bike completely smoked his brand new 2011 racing bike… and just about every other new bike and quad riding that day!
Power
The 1983 Yamaha YZ 250K is simply a beast! The bike is awesome on top, mid and especially bottom end power making it difficult to keep the front wheel on the ground in 1st, 2nd, and even 3rd gear.
Handling and Suspension
This is not the easiest bike to ride primarily due to its excessive weight. The front suspension frequently bottoms out… but the rear mono shock holds strong even on big jumps.
Brakes
Stopping is sometimes a challenge on this bike with its original front and rear drum brakes.
Overall
Yamaha's only design flaw for the 1983 YZ 250K are the missing wings… because if you ever had the opportunity of riding this bike you will personally understand that this Beast is constantly trying to take off on you… and it definitely flies!
Thanks for sharing your YZ with everyone Brian!
1983 Yamaha YZ250K Gallery