1983 Yamaha YZ250K Euro (White & Red Model)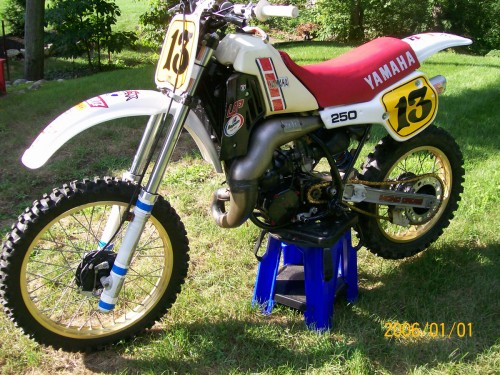 Thanks to Paul Holmstrem of Burlington, Massachusetts for sharing his 1983 Yamaha YZ250K Euro model. Many of you might know, the European (and Australian) model Yamahas sported the red and white look since 1974 and in Canada since 1982. The red and white models didn't go state side until 1985.
Here's what Paul says about his Yammerhammer:
Here's my recently finished 1983 Yamaha YZ250K. This bike is a true survivor that was freshened up top to bottom. The motor was rebuilt: crank seals, bearings and fresh top end. Mild porting, Boyesen reeds, full DG exhaust and silencer. The shock was completely rebuilt along with a new custom wound spring. The forks are fresh, as well as brakes and new plastic. She is very tight and not built for your living room. It puts a lot of them 4 strokers in there place. Long live 2 smokers!
Thanks for sharing, Paul!
Rohan's 1983 Yamaha YZ250K Euro Model
What we have here is another beautifully re-done 1983 Yamaha YZ250K, this time with the red and white plastic that was distributed in Europe, Canada and Australia. So it's no surprise that this bike comes to us from Rohan of South Australia.
The list of new parts on this zinger is a mile long. Here is what Rohan says about his YZ:
The bike was completely gutted, the frame powder coated and everything that could be replaced, has been replaced. The engine has had a full rebuild and re-bored. The bike is all finished, with a grand total of 4,200 AUD invested.
The List Of New
Replaced all bolts & nylock nuts with stainless steel
Plastics
Tapes, tubes, s/bolts & caps
Excel rims & stainless steel spokes
Swing arm bushings & link arm needle roller bearings
Coil
Gear lever
Air cleaner
Polished aluminum radiators
Braided stainless steel water hoses & fittings
Sprockets & gold o ring chain
Brake shoes
Powder coated hubs
Rear brake cable
Recharged rear shock with N/gas & replaced seals
Tank is painted with special plastic primer
Decals
Red fuel lines
Throttle cable
Clutch cable
Chain guides & rollers
Head stem bearings
Fork seals
Fork dust boots, gaiters, & plastic protectors
Pro-Taper handle bars
Brake & clutch levers
Splined shafts & gears
Complete crank shaft
Crank shaft bearings & seals
Pirelli Scorpion tires
I think we can all agree, Rohan means business when he rebuilds a bike. Great job on your '83 YZ250 Rohan, thanks for sharing it with all of us!