1983 Yamaha YZ100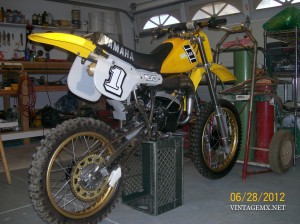 This week we have another vintage mx bike submission from our buddy Klaus from Las Vegas! Check out his very trick 1983 Yamaha YZ100. Anyone that has had one of these know they are fun bikes with some serious pep. Almost full size bikes, the smaller bore size made the YZ100 a great "in between" bike and super fun for flicking around a track.
From Klaus:

This was the last year Yamaha produced the YZ 100. This bike is a support type bike. The suspension on this bike is far from stock.
The YZ100 was made from 1976 to 1983 and is a pretty rare find in any year model. It's great to see that such a beautiful example of the YZ100 still exists after 30 years.
We know many of you have incredible bikes out there, we see them at the races, consider sharing yours here on vintagemx.net! Thanks for sharing Klaus!