1983 Maico 490 Spider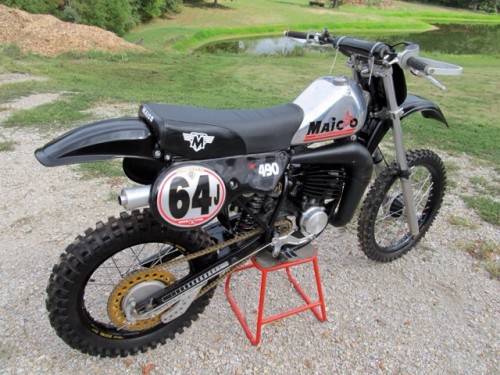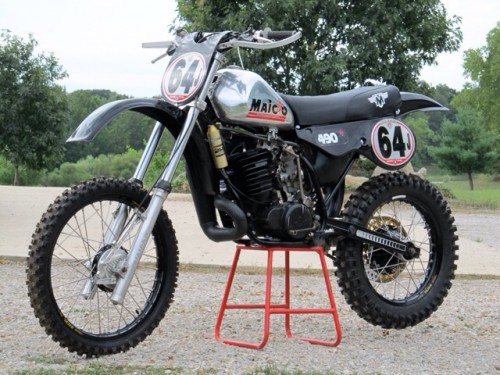 Here is the 3rd Maico showcase bike from John Fraase of Springfield, Illinois. As with the other two, this 1983 Maico 490 Spider does not disappoint!
From John
I purchased this bike from Robert Schow in Missouri. It was in original shape and factory color, but needed everything. After seeing several amazing black machines, I decided to build a black widow project. I went through the motor, which needed almost everything, front forks fully rebuilt and rear shock. Halls Cycles laced up new black wheels with stainless spokes and Bob Mathews powdered the frame and swing arm. Jeff Freer polished the triples, sliders and controls and Canham Graphics cut out my design for tank decals. The aluminum tank is a Karl Landrus design I just happened to come across that really sweetened up the look.

This machine performs as good as it looks, that famous tractor monster Maico horsepower with every twist is a real handful and not for the beginner. The bike seems to scream a look of mean attitude just sitting still, just what I was hoping for. Again I have to thank my buddies Randy Lee, Keith Whaley, and Gerry Booth for help in locating parts to finish the project.
Cool Facts About The '83 Maico 490 Spider
The 1983 Maico 490 Spider was the last air-cooled 490 that the original German Maico factory produced. This Maico was also 20 pounds lighter than the KTM 495 MXC. The 490 Maico Spider featured a 40mm Bing carburetor, 5 speed transmission, 42mm air assisted forks, and a dual control Ohlins rear mono-shock.