1983 Husqvarna 500 CR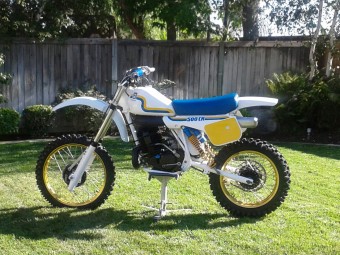 This monster 1983 Husqvarna 500 CR comes from one of our members, Jim McConnell of Yorba Linda, CA.
I am the 2nd owner of this bike. It was purchased new from Mitch Payton, (Mr.Pro Circuit). It has some one off items on it as the bike was used as a proto type bike in 1983. It took 1 year of restoration to bring it to what you see now. Almost all the nuts and bolts are titanium. It has the original motor, frame, shocks, hubs, forks and gas tank. It even has the stock pipe with no dents!!
Some would say that the Husky CR 500s lived in the shadow of the Maico 490s of that time period. However, owners these Huskys know that they can hold their own. Outstanding power and plush suspension thanks to the Ohlins shocks, these two wheeled rockets are not for novices. The power delivery hits in the lows rpms and continues to rev through the entire power band. Like most bikes of the time, the drum brakes were decent at best; and brakes are a great thing to have when you're doing 90+ mph on one of these Huskys on an open stretch. The 1983 Husqvarna 500 CR also featured a 6 speed gear box and a giant 44mm carburetor.
Thanks for sharing your great looking Husky Jim!
Do you have some tips or knowledge about the '83 Husky CR 500? Leave your comments below!
1983 Husqvarna 500 CR Gallery