1982 Honda CR250R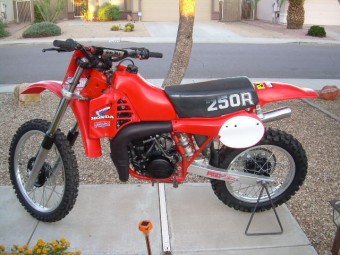 Thanks to Robert from Arizona for submitting a great looking 1982 Honda CR250R. Robert keeps his description short and sweet:
Very low hours, garage kept 1982 Honda CR250R.
The 1982 CR250R was powered by a 246cc liquid cooled engine that produced about 43 horses with a 5 speed tranny. Note that the kick starter was on the left side as it was until 1984, when the kick starter was moved to the right side. The Pro-Link rear suspension gave a little over 12 inches of travel and the forks also gave 12 inches of suspension.
The 1982 CR250R also featured Honda's new "double-leading" brake shoes, however the bikes stopping power wasn't great. The bike handled decently but the power is where the '82 CR250R really shined. The engine had plenty of low-end and pulled nicely through the power band. The suspension was a bit soft for some riders but was comparable to other 250s of the era.
Overall, the '82 CR250R lived up to Honda's reputation of reliability and performance, great power in a fun to ride bike. Thanks for sharing your classic CR, Robert!