1980 Maico MC 100 Frankenbike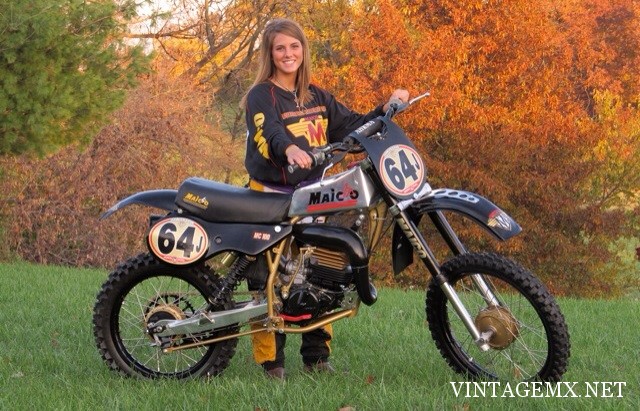 Here is the fourth installment in the Maico line up from John Fraase. The only exception, it's not really a Maico! John and a few of his buddies got creative and this is what came out of it, we love it. It's part Suzuki, part Maico, all cool!
This creation was born out of a few guys sitting around at a race thinking of a way to represent Maico in the Marty tripes 100 revenge races, this is my entry. It started with a 1980 RM125 frame, I cut off the neck and welded on a 1985 Maico 250 neck to install White Power upside down forks with a custom drum brake bracket. The frame and hubs were powder coated gold by Bob Mathews and a rebuilt 1980 RM100 motor installed.

Halls Cycles laced the black wheels with stainless spokes and Jeff Freer polished up the goodies. The tank was built by Jeff Mullins at Maico Werks and I had the tank graphics cut out like the old man Maico decal. The plastics are for a 1981 Maico, rear fender is a '73 model. Jakes garage did up the number plate backgrounds that really stand out. It really turned out killer, gotta love all the comments from everyone, especially those that figure out it's not a Maico. My buddies, Randy Lee, Keith Whaley and Gerry Booth have more than a few screws loose, but we all have a great time with the vintage bikes.
Thanks again for sharing John!