1980 Kawasaki KLX250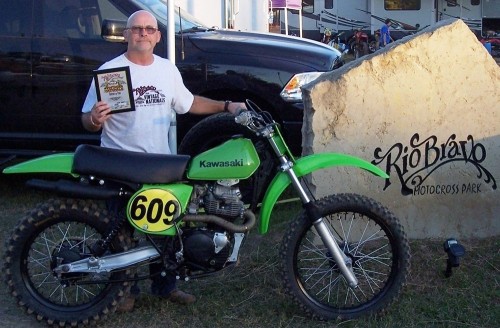 Today we're getting to look at a unique lean green machine from John F. of Port Allen, LA. The 1980 Kawasaki KLX250. This isn't your stock 1980 Kawasaki KLX however. No, this vintage KLX thumper has been turned into a gorgeous moto machine!

Here is my pride and joy, a 1980 Kawasaki KLX250. I started post vintage AHRMA racing in 2014. Being a huge Kawasaki fan plus having an affinity for four bangers, this is a match made in heaven. I race it in the AHRMA Ultima 4 Stroke category and while it is not very fast by today's standards, it is very easy and fun to ride. It catches a lot of attention at the races and everywhere I take it too.

My bike was restored as a "Works Edition MXer". Originally an enduro model, Kawasaki made these just two years (1979/80) by putting a 4 Stroke 250 motor on a KX125 frame. Weaver Motorsports did the "works style" motocross restoration for me and I've made it my own with just a few tweaks.
1980 Kawasaki KLX250 Gallery