1977 Honda 100cc Elsinore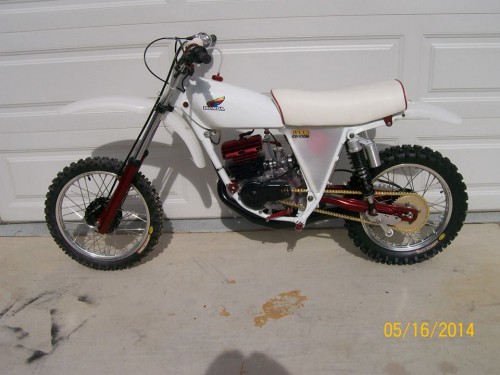 Hey race fans! Check out this 1977 Honda 100cc Elsinore, another super cool mini from the collection our buddy Klaus Ramsey of Las Vegas, NV. Mr. Ramsey has laid out quite an extensive list of goodies for this little screamer. Here's his story about this mini elsinore.
The bike started out as just frame, forks & swing arm. I've wanted one of these bikes for as long as I could remember. My older brother had one for CH, it had this same color scheme, I liked it so much I did this one the same. I'm pretty sure there's not a lot of these bikes still out there. I hope you like it.
The Upgrade List
100cc LA Sleeve kit
Wiseco high performance piston
Fast Past side & number plates
DG head
PFR pipe
UNI air filter
PROTECH chain tensioner
Air forks
PFJ rear shocks
OEM controls (grips/levers/boots)
Aluminum bars
AMS plastic
JT sprockets
Prowheel Rims & tires
Vanhoove seat & crossbar pad