1976 Honda CR250M Elsinore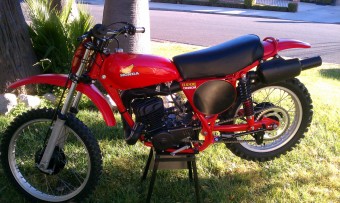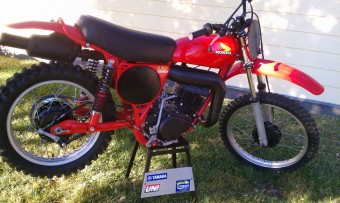 This absolutely stunning 1976 Honda CR250M Elsinore was submitted by our friend and member Don Brown from Thousand Oaks, Ca.
I have been restoring this bike for years and recently completed it. I found this bike in a field, outside an old house about twenty years ago. The owner sold it to me for $50. I had a similar one like it in high school. The bike was a complete wreck when I got it home. It had a seized motor, ripped up and rotten seat, hammered tank, and the cables were torn and dangling.

I completely disassembled it down to the nuts and bolts and started slowly gathering parts to make it new again! Thank God for eBay and RE-MX! The hardest part to find was the silencer. I guess they got thrown away along with the chain guides in the 70's!

I tried to stay true to original Honda as much as possible. The tank is an original factory alloy with original paint. The bike fires on the first kick and has awesome power! I had forgotten what a two-stroke can do when it comes on the pipe! The bike is painted in the original Honda Tahaitian red color of 1976. (RE-MX)

Sadly, I am forced to sell now due to financial reasons. I loved restoring this bike! It was a long ordeal but worth it! I still had all my dirt bike magazine tests when I raced in the 70's for reference. Enjoy!
1976 Honda CR250M Elsinore Specs
Engine: 248cc Two Stroke
Transmission: 5 Speed
Clutch: Wet-Disc Multi Plate
Fuel Capacity: 1.8 Gallons
Wheelbase: 56.5 Inches
Height: 33.9 Inches
Width: 35 Inches
Length: 83.9 Inches
Frame: Semi-Double Cradle
Drum Brakes: Front & Rear Expanding Shoe
Dry Weight: 214 Pounds
1976 Honda CR250M Elsinore Gallery
Thanks for sharing your classic Honda with us Don, we're sure you've made all the Honda fans proud!