1975 Yamaha YZ250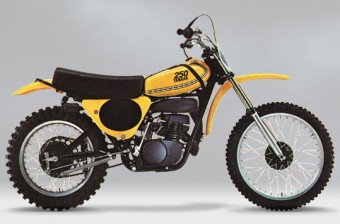 The Yamaha 1975 YZ250M revolutionized the world of motocross in it's time. It was an air-cooled single-cylinder two-stroke bike that had reed-valve induction and a five-speed gearbox. This year Yamaha got things right. Fed through a 34mm Mikuni carburetor, Yamaha created an engine that smoothed out the power through the low end to top end and everything in between.

Yamaha's first YZ250 had a thin aluminum tank that helped keep the weight down. Holes were drilled in almost every piece on the '75 YZ250 where it was safe to do so. The holes allowed for weight to be decreased without reducing strength. The side cases are magnesium. Even with all these light-weight producing features, the 1975 weighed approximately 19 pounds more than a 1974 YZ250.
Why 19 pounds heavier you ask? The 1975 Yamaha YZ250 featured de Carbon mono-shock suspension, which was innovative for the time to say the least. It was the first production mx bike to be produced with a rear mono-shock. The rear unit was mounted horizontally under the gas tank and seat, and allowed for 6.5 inches of travel. This feature along with light-weight parts put Yamaha ahead of the rest of the pack of production bikes for 1975.
The front telescopic forks allowed for seven inches of travel. After the YZ250 saw so much success, other manufacturers began following suit, using single rear shock absorbers as well.
1975 Yamaha YZ250 Gallery
Images of 1975 Yamaha YZ250B restored by James Meridieth of Tennessee. The racer in the third photo is also of James.