1974 Yamaha YZ125A Noguchi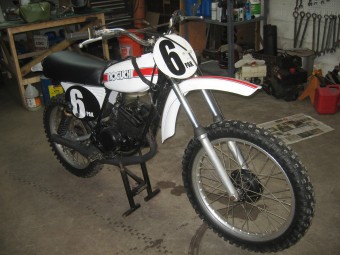 This slick 1974 Yamaha YZ125A isn't stock, but it is very cool! This beautiful YZ'inger belongs to John Novak from Wilbraham, MA.
The bike was a labor of love for me. In 1975 I bought a used 1974 YZ125A. I saved all my money and fixed it. I road that bike for 3 years and regret the day I sold it.

This past year, I started collecting parts to build another one. The frame came from over seas. The tank, fenders, and seat I found locally. I bought 4 motors and put the best of all into one. The frame had been gusseted to support the laid down shocks. This stops you from using a stock pipe, as it will not fit through the frame. I found a good down pipe, I believe it's a DG.

The motor just didn't make the power needed to pull me around as I no longer weigh 145 lbs. With some creative work, a 1977 motor was fitted in, along with dual stage reads. This helped a lot. I still found that my main competition was pulling me on hills and long straights. That's when I found out they were running MX175 top ends.

So, now I'm in the process of modifying it to accept the 1978 IT175 top end I bought for it. It never ends, but it's so much fun. I found the Noguchi tank graphics on-line, and the white paint job makes me happy. The front end is from a 1974 YZ250A, and makes a BIG difference. It's so light and fun to ride.
Did You Know?
Yamaha first introduced their YZ line up in 1974. The original 1974 YZ125A featured an up-pipe and a 5 speed transmission. Yamaha made two 125 motocrossers this year, the MX125 and the YZ125. The YZ was the full-blown race version and the price was about $120 more. The YZ also featured a Hitachi CDI ignition, a 28mm Mikuni carburetor, better handlebars, closer gear ratio, and a chrome bore cylinder and aluminum gas tank. The forks gave 6 inches of travel, while the rear shocks gave 3.5 inches. Yamaha claimed that their 7-port reed valve 1974 YZ125 produced 23 horsepower at a screaming 10,000 rpm!