1974 Suzuki TM-125L Challenger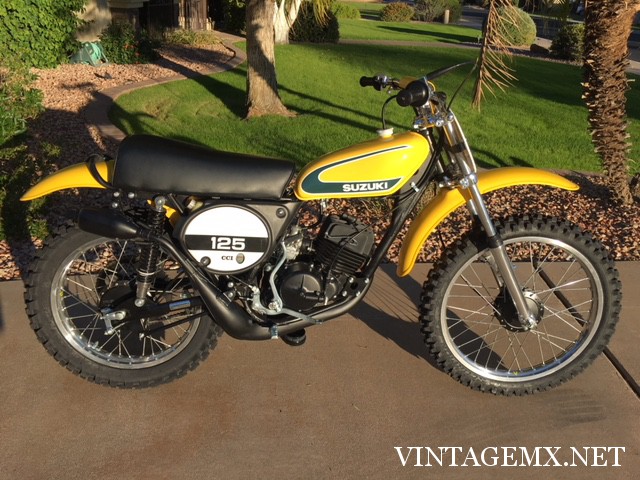 We've seen its bigger and slightly older brothers, the 1972 TM-250J Champion, and the 1973 TM-250K Champion in other showcase submissions. Today we look at a stellar restored 1974 Suzuki TM-125L Challenger. This 1974 Suzuki TM125 Challenger showcase is shared from owner Bill Denzer of Arizona.
1974 Suzuki TM125. I found this bike in southern California, and drove out from Phx, AZ to see if it was as good as it looked in the pictures. The guy selling it was a former motocross racer from the 70's and 80's who had a few bikes tucked away in an old shed on his property. The bike barely ran, but It was obvious that it wasn't abused and probably never raced. Other than the gas tank, which was there but not on the bike, everything was original including a functional oil injection system.

Over a 4 month period, I completely tore down the bike, sandblasted and re-painted parts, re-plated all the hardware, rebuilt the crank and installed a new piston, rings and seals, installed new fork seals, and reassembled the bike with new plastics, cables and tires.
The biggest headache was the tank because it leaked. I took it to a local radiator shop for repair and then it was off to the painter. The bike's not perfect, but it turned out looking pretty good.
1974 Suzuki TM125L Challenger Gallery
---
1974 Suzuki TM-125L Challenger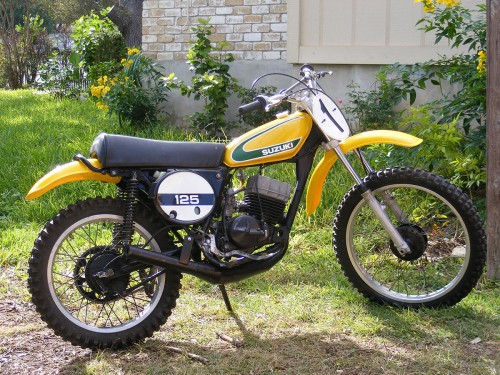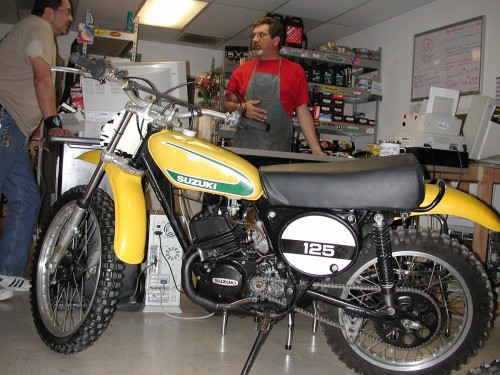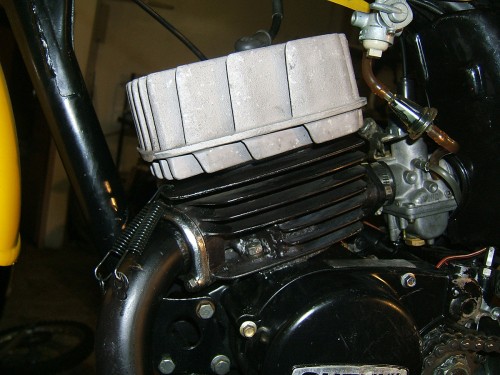 Today's eye candy comes from proud owner Steve Hansell.
I bought a 1974 TM125 that had been used by a farmer to get around his property, the engine and everything was in great shape. I cleaned her up with fresh paint to the frame and gas tank and finer details. New decals and top end. Just for fun, I bought a spare top end and took my Dremel tool to the ports to match and smooth them as required. I did not go crazy I simply lightly modified the top end.

I also bought all new parts if the buyer or I eventually want to install them when/if the time comes, but right now she is running on her original hardware and running very well. I did go ahead and install the Hi-compression Webco head and a new pipe which flattens out the power delivery while increasing the overall HP and torque. I still have the stock pipe which I actually like better in its looks than the upgraded one.

All new handlebars, levers and grips are currently installed as well as new chain and both sprockets. She is my favorite Suzuki, I have 2 gorgeous TS185s as well. I have a 1972 and my favorite TS185 is my 1973 Blue with Red striped tank TS185.
1974 Suzuki TM-125L Challenger Info
The 1974 TM-125L featured a distinct hooked green stripe outlined in white, changed from the '72's black striped tank. The '74 Suzuki TM-125L Challenger's air-cooled 123cc engine produced 17.5 horse power with a 5-speed gearbox. This Suzuki is a light and nimble machine weighing in at only 189 pounds (86kg).
What do you guys think? Did you have one of these Suzukis? Do you still have one? Leave your comments below!
Thanks for sharing your killer Suzuki Steve!