1974 Rickman Montesa 250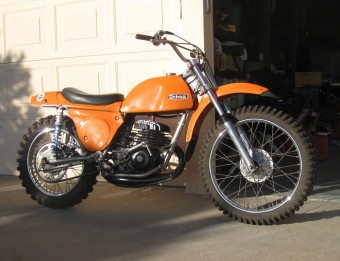 Thanks to Jack from Albuquerque, NM, we now have our first showcase Rickman on the site! His is a 1974 Rickman Montesa 250 VR.
Yes, It really is orange! I have had the bike about 3 years but haven't ridden it much. It has an aftermarket Mikuni carb in place of the original Bing, a standard mod. The Bing carbs worked well, but Mikuni jets and parts were more readily available pre-internet. It has Works Perfomance rear shocks and is otherwise pretty original. I was concerned that it had earlier side panels that didn't wrap around the carb like most of the '74s, and doesn't have the headstays attached to the frame. I confirmed with Rickman in England that it was originally a VR-engined frame, but an early one made in 1973. Apparently the final configuration wasn't yet established and small factories made changes whenever the urge struck them.

In the early 1970s I was a franchised dealer for Penton, Maico, Hodaka, and Ossa in Las Cruces, NM. In addition, I carried AJS and Rickman through my partner, a Triumph dealer in El Paso, TX. Triumph became the US distributor for Rickman in 1972, the year I bought my 125 Rickman Zundapp. Prior to that time Steen's was the importer of the Micro-Metisse to the US. The Rickman Montesa was first available in late 1971 as a 1972 model (confirmed by Rickman Motorcycles in England). I rode and raced Rickmans, Maicos, Pentons and Ossas during that time in MX, desert races, enduros and TT races. I didn't ride from 1976 to 1990 and then got involved in vintage racing through AHRMA. During the '90s I restored and raced Maicos and Bultacos and my Rickman 125 in MX and a Bultaco Sherpa T model 49 and OSSA MAR (which I acquired new in 1972) in vintage trials. I have sold all but the Rickman.

I had a 1973 Rickman 250 at that time. It was a really nice running and handling bike. Unfortunately, I missed a shift on a 4th gear straight-away and blew the motor into small pieces. After several months searching for an engine with no luck, I gave the bike to a friend to use for parts, The '72 and '73 Rickman 250 used the right shift Montesa 63M motor. Montesa introduced the VR (Vehkonen Replica) model in 1973 with many improvements including left side shift, and that motor was used in the 1974 Rickman Montesa.

I am readying the 250 for riding and maybe a vintage MX or 2. It will get plastic fenders, a period Kawasaki MX seat and a fiberglass tank to save the original items. I'll post a pic when it is done. Also, I will send pics of my 125 Rickman Zundapp when I can get it out of my garage to take some.
Thanks for the great information and story Jack, nice Rickman!