1974 Greeves 380 QUB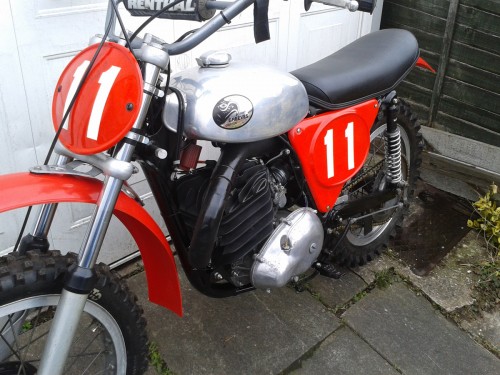 Feast your eyes on this extremely rare, (1 of 2), 1974 Greeves 380 QUB. This showcase bike comes from Ben Martin of Kidderminster, UK. Thanks for sharing with us Ben! Here are his comments below.
My '74 380 Greeves QUB, this is one of only two Neval Greeves, the other being in a sport café in Norway! This is the bike that Greeves copied to make their MK 2 QUB, which only 25 were ever made. This Greeves uses a 34mm Mikuni carburetor, the first Greeves to have run a Japanese carburetor back in the 70s. The bike is also in a book written by Neville Mason detailing all the mods that were done to it.
Everywhere you look on this machine, you'll see weight-saving modifications. A significant amount of weight was reduced simply by grinding away alternate fins on the head, and the engine ran 25% cooler as a result! A massive amount of weight was reduced in the rear from the CCM Elektron rear hub and the aluminium alloy swing arm. The front fork springs were replaced with air conversion, the front hub was lightened, and the shocks were replaced with Husqvarna gas shock absorbers. An aluminum alloy air box rounded out the weight savings for a total of a 31 pound loss!
Further mods include a steering head angle change to the frame and the shocks angle repositioned for improved handling. The sub-frame was removed and the frame itself was reinforced. This Greeves produces a very impressive 46bhp and weighs a very light 194 pounds, quick even by today's standards.
Alan Voase raced this bike in 1975 to an impressive 12 race victories. The bike was then sold to Nev's bother at the end of 1975 and was then dismantled in 1982. The bike was kept in boxes until it was restored in 2011-2012. Greeves rebuilt the engine. It was also re-assembled using the standard Griffon frame to comply with current Greeves Series regulations. The modified original frame (63F 417) is still with the bike.
Below is an excerpt from Neville Mason's book:
At the time that we were running the 380cc Greeves Griffons, the factory was not doing any new development work on them apart from an Army contract they were trying to obtain with their standard out of date machines. I can't think of anybody else in England who was doing any work or modification to the Greeves bikes, as we were in 1975 and 1976 our modified Neval Greeves were out there winning races most weekends. The modifications we made to these bikes turned an out of date machine into a winner which was why the factory decided to copy our bikes, and that's a true fact, not fiction, in spite of what many of the so called Greeves experts say.

The factory also gave me a brand new 250cc Griffon engine and gearbox unit to develop for them which I did quite a lot of work on, getting the power up quite a bit from their standard unit. In fact, it even won two races when slotted into my 380 Griffon's frame. Greeves never asked for this 250cc engine back, but at least it was small payment for the time, work and the ideas that they copied from our bikes for their new Griffon QUB 380cc MK II.
1974 Greeves 380 QUB Gallery