1974 CZ 400 Works Bike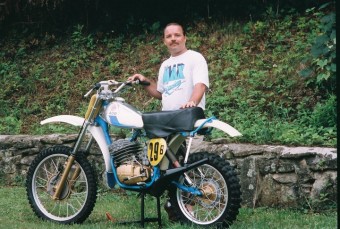 Today we have a real treat to feast your eyes on thanks to John Feit of Redmond, Oregon. A 1974 CZ 400 works bike. Yummy. John describes his works retro rocket as follows:

About 17 years ago I was full bore into the vintage racing scene. I traveled a lot and would search out bikes and parts everywhere I went. It is amazing the stuff one can find if they look hard enough. One day, I was looking at an old Dirt Bike magazine. It featured an article about vintage CZs. It featured several shops that were into the vintage scene. Just on a whim I started calling all the shops. One shop would say "I sold everything to this guy", I would call him then another and another. Eventually I found the guy with most of the bikes and parts. We talked for a month or so, worked out a deal for several bikes and tons of parts.

I traveled from Asheville, NC to a small town in eastern Ohio. I picked up a race ready CZ 400 centerport conversion in a handmade one-off chromoly frame by Bassett. For $385.82 a guy brought the bike in 3 years earlier and never came back for it. Wow!!!! It even had a gp seat. That bike is another story. The shop owner saw I was a hardcore CZ nut and mentioned that he new a guy that had a honest to goodness real works CZ. He said the guy had it for sale a year ago. I was jumping out of my skin. He found the guys number and called him. He still had the bike, and it was for sale. I had just enough money to get home. The guy said he would send photos. The longest week in my life, the photos finally arrived. I couldn't get to FedEx fast enough. I over-nighted the money. 1 month later I had that baby strapped down on a bumper carrier on the back of my Chrysler Newport.

Ok, the details. The bike came out of Motokov of Canada. They sold 2 works bikes to a big shop in Ohio when they shut down the factory racing program. So guys, there is another one out there! It is a true works bike. Sandcast magnesium engine. Sandcast centerport cylinder. The engine is loaded with all the works internals. Everything is drilled and lightened. From the clutch hub to the transmission gears to the foot pegs. Titanium here in there for good measure. Race ready weight with 1 gal of gas. 221 lbs. The pipe was totally hacked up, so I had a new one made. The shock mounts were moved forward. So, I moved them back to 1973 specs so I could race this baby… and race it I did. I have crashed my brains out on this bike. A lot of guys thought I was crazy. My response was: It's a CZ. The bike has a mile wide power band and is the best handling CZ ever. I am one lucky dog.
Great story and information John, thanks for sharing your treasured CZ!
This CZ if now FOR SALE, Click Here!
1974 CZ 400 Works Gallery