1971 Maico MC 501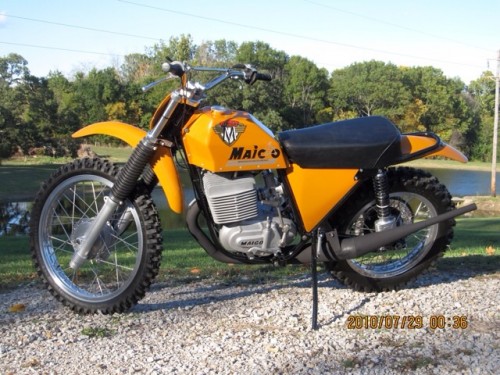 This 1971 Maico MC 501 square barrel mx is the first of a few Maicos to be showcased from John Fraase of Springfield, Illinois. Here's what John says about his MC 501.
I purchased this bike from the original owner with the title and manual. After getting it back to the ranch, cleaned her up, checked spark, new plug and added fuel, she fired after just a few kicks. That was a good feeling. Having collected other Maicos over the years and with some pushing from friends, I decided to restore the ole girl.

Disassembly was easy and had Mike Perez in Caseyville, Illinois go through the motor and bead blast everything. I also had a set of Wheelsmith forks with the cones on the bottom. Mike refurbished the sliders and installed the new fork tubes, he also laced up the shouldered wheels, it all turned out great.

The fiberglass tank, fenders and air box were reworked and painted by Clint Maderos, they look like glass. Bob Mathews powder coated the frame and swing arm gloss black. John Caldwell sent me cables. Jeff Freer polished the trees and controls to shine better than new. Canham graphics cut my design out for the tank decals. The bike sports a new pair of Metzeler tires and a Circle F pipe that let's everyone know where you're at.

A great many thanks to friends like Randy Lee, Keith Whaley, and Gerry Booth kept the pressure on to get her finished, hope everyone enjoys the photos. It was a fun project in the Summer and Fall of 2013, hope to take her to several events this year.
Thanks for sharing your 1971 MC 501 John, it's gorgeous!
1971 Maico MC 501 Gallery