1970 Yamaha RT1 360 Modified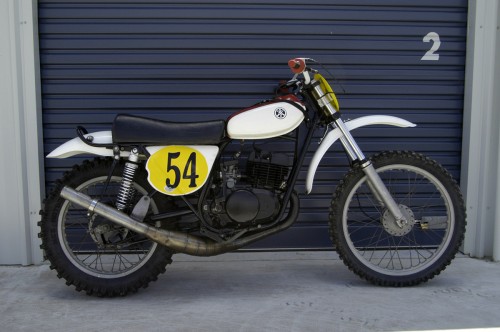 Here is another heavily modified Yamaha from Iain Cameron of Tasmania. This beast started life as a 1970 Yamaha RT1 360 cross-country machine, the big brother to the Yamaha 250 DT1. Originally, the Yamaha RT1 360 produced 30 hp at 6000 rpm with a 5 speed gear box and weighed 258 pounds. This RT1 had a serious diet shedding all it's lights, odometer and speedometer, bulky tank, mirror and everything else that made it usable for on-road applications.
After the diet came the mods which we'll let the owner, Iain explain.
This bike is a bit of a bitser with Suzuki TM125 wheels, Suzuki RM seat, Yamaha YZ80B tank, and the pipe was built by GMC in Victoria . The base is a 1970 RT1 Yamaha piston port motor on 2mm oversize . Painted up in the works team colors from 1970 . The cylinder is a gen GYT RT1m and the head is a RT2MX from '72. As with all RT's, to kick this over its a brave or very stupid man that does not think about broken ankles.
We think the bike came out looking great, don't you? Thanks for sharing Iain!