1969 Suzuki TS250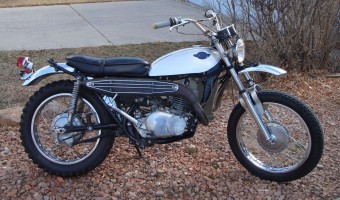 This showcase bike comes from Erik of Colorado. His 1969 Suzuki TS250 enduro definitely isn't a hard core motocrosser, but is actually based on one, the Suzuki TM. Plus, we think it's very cool and looks great for a bike that is over 40 years old! You definitely don't see one of these everyday. Here is what Erik says about his TS250:
My pride and joy, a 1969 Suzuki TS250. Its mostly stock and original, save for the grips on it. Everything works, except the horn. The oil injector seized, so now I'm running pre-mix. The seat was re-upholstered 5 years ago. The tank was originally red, but is now silver, the chrome fenders, and everything else that's chrome on the bike looks good too. The turn signals, and mirrors have been removed. It really is in great condition for its age. I will be restoring it in the distant future.
Thanks for sharing your bike Erik, it's got some great vibes!