1969 CZ 360 Sidepiper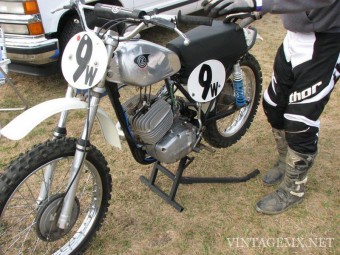 Today we received a bike submission from Clay, of Portland, OR. He shares his sweet 1969 CZ 360. The bike was for sale, so hopefully it ended up in loving hands! Here is what Clay states about the CZ:
These pictures are of a fully restored 1969 CZ 360 Sidepiper. Have the original pumpkin tank and gas cap (restored, not on bike) and metal front fender, which is mounted on the bike. This CZ has Works Performance shocks, rebuilt forks, GP seat, Excel rear rim and heavy duty spokes, newer cables and tires, and more.

Currently has a beautiful alloy tank on it. Has original non-folding foot pegs, rear shock covers and stock grips. A good solid vintage racer with a proven track record.
Share your comments on the 1969 CZ 360 below!
1969 CZ 360 Sidepiper Gallery